And it is gentle indeed. As the winter desperately clings on, unrelenting, a few claws gripped into the blanket that covers a keen, warming spring, there are tiny stirrings in life. Daffodil buds show glimmers of vibrancy behind green doors, birds pick carefully at twigs, sizing them up for nest appropriateness, blue skies, whilst bringing a chilling wind, allow the heart and mind to chance a hope that hot days are only around the corner.
Though winter has been long, I stumbled to the allotment amidst a bare, boggy forest in a vague attempt at helping spring on her way. It seems that whilst snow, ice and frost have cracked and hardened the soil, grass has somehow managed a steadfast march across the ten rod plot, unrealised until the spade goes in and hours drift by. I discovered an overwintering onion patch, long forgotten both by Mary and I, hiding beneath a grassy layer, the bulbs brown and crisp, waiting for warm soil to engorge them for the table. They have never done well, not the least because of the lack of tending, and the patch is sporadically strewn with bulbs. Pigeons have taken a feast, bulbs have rotted. It seems that the crop will be low and instead our spring shallots with have to be interspersed with the already growing sphere's.
Forgot onions bring a welcome surprise
My keen nature to get growing this year has also led to windowsills of seeds growing strong, but tall and leggy. My broadbeans, attempting to reach the ceiling, have finally been potted out. My lack of concern has meant that far from thick, sturdy stems, they are rather model and waif like, now having to be tied to individual stakes. As with most gardening, a little bit of hope, and a lot of luck and this crop will, must, come to my aid and thrive in its new spot.
Untended Broad Beans need rescuing by a few well placed stakes
But days above freezing are increasing, swathes of herbs are germinating at home, tiny green leek stems thickening day by day, newly sown beetroot and brussel sprouts beginning their chemical amazement before leaping above the soily surface. 2010 races on, my only concern now is trying to keep up!
There are times when even the most defiant of gardeners have to admit defeat. When snow is falling, and there is 6 inches of it on the ground, rather than planting and potting and rotivating, we have to simply sit back and enjoy the scenery. Whilst its bitterly cold outside today, Ben and I took a stroll to Narnia. There was no lampost and I searched wantedly for a fawn, but alas nothing. However, Mr Fox, his tail bushy and russet sat watching me carefully as I enterted the allotment to spy what wonders it had in store.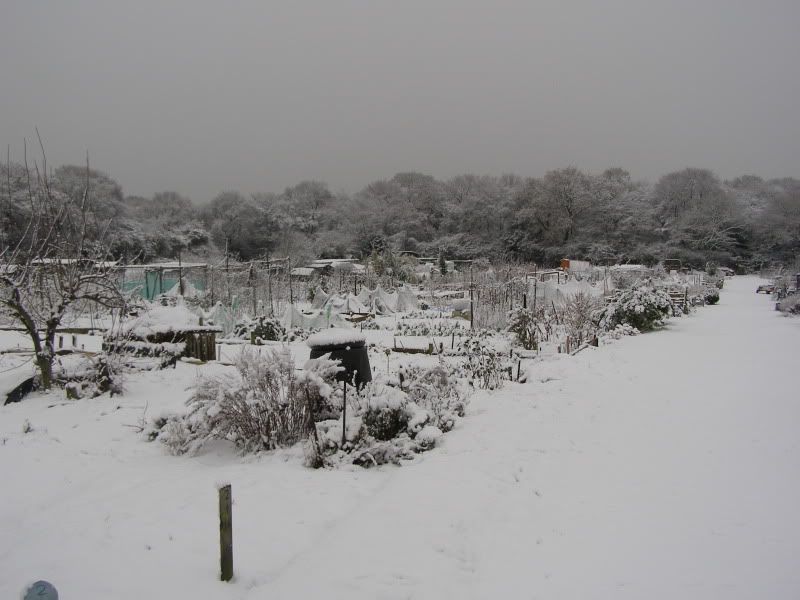 The allotment in its white beauty
Of course, nothing is really growing, but the dead can be beautful to. An old poppy seed pod, it's seeds scattered to the wind, stood quietly in the air, glistening crystals showing up how splendid nature is.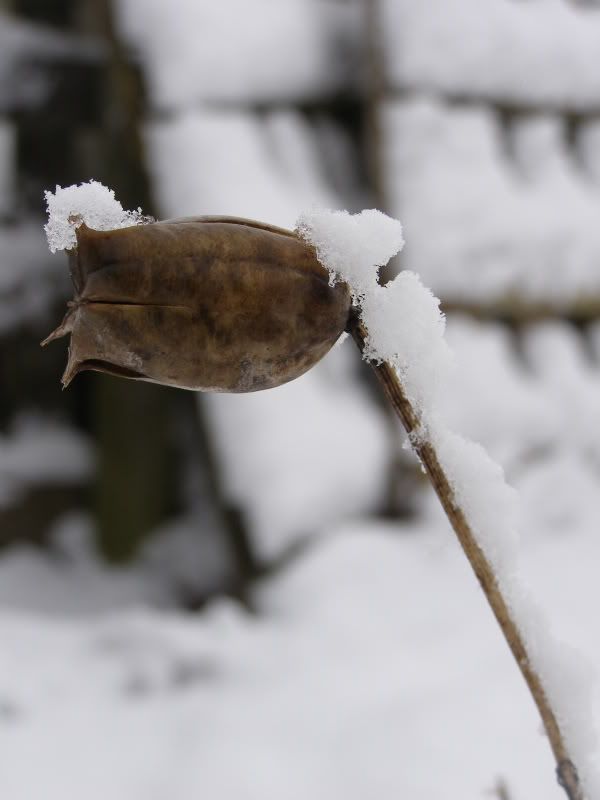 Seed heads stand proud
Cornus, (Dogwood) continued to revel in its extroadinary winter beauty, showing me exactly why its one of my favourite winter plants. Its' bright crimson stems a flash of ultimate colour in the gaining sea of white.
Cornus rewards with vibrant colour
Meanwhile, beneath a blanket of snow, the Broad Beans sit frozen, awaiting a ray of sun, a intimate sign that growing can once again commence. Wedged in Leeks lay quietly, retaining their colour, their freshness, winter the perfect freezer. More snow is falling, adding to my excitement, bringing smiles to strangers, rosy cheeks, veritable conversation to those who ordinarily would walk right by. Winter is the season, snow is here, and I'm loving every minute of it.
For more pic of our winter walk visit the Guide to Gay Gardening's Facebook FANPAGE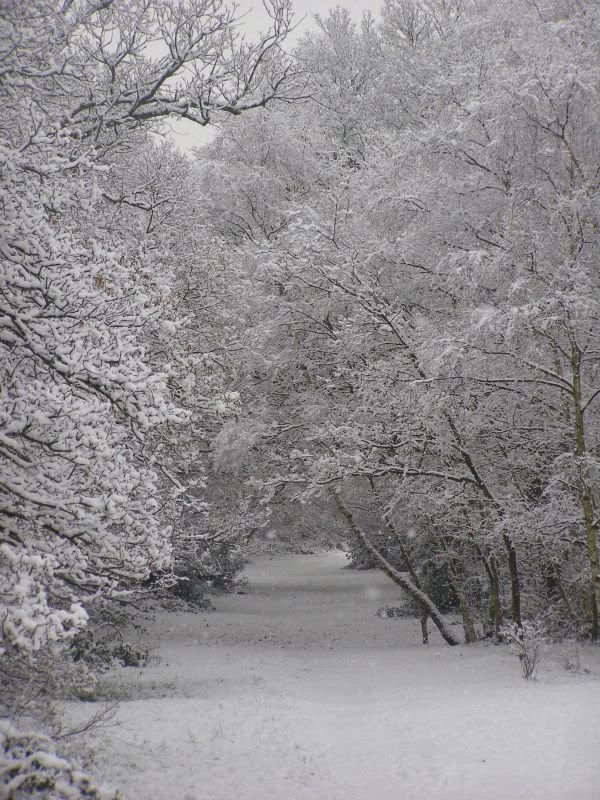 Well winter is certainly upon us, and with soft billowing wisps of snow bringing some Christmas cheer and delaying any gardening work I had planned, I'm taking the opportunity for a quick update. Any gardener knows, even when the cold draws in and hours of light become severely stunted, there is always something to be getting on with in the garden. Leaves can continue to be swept, kept and turned into leaf mulch. Landscaping changes can be made, whether its simply putting down a new path or overhauling the garden completely. Hibernating tree's can be pruned, especially those fruit tree's which have becoming gangly over the years and general winter maintanance such as protecting plants, tiying back tree's and moving shrubs can continue.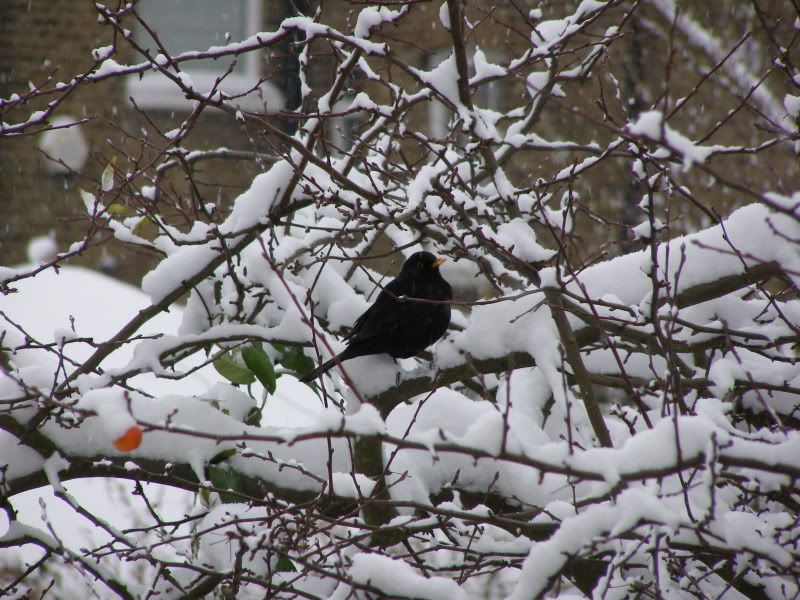 A proud Black Bird gleams in his white wonderland
At the allotment, whilst the frost is definatley nipping at Jack's toes, the broad beans planted last month have pushed their heads through the earth, clambouring for some wintery sun. Little clean green gems, fresh and new. Overwintering onions sit patiently, peeping upwards, waiting for sporadic warmth to start bulging their bulbs. Meanwhile, though Autumn has flown by, any last bulbs can be quickly planted before the new year is upon us, drinks, banners and party poppers flying. Once January comes the time for ensuring spring bulb flowers is over, and though bulbs can theoretically still be planted, they won't flower until the following year.
Meanwhile, as my plans to rip out my current green space and create something new and exciting seem to have waned a little, the TV garden calender is gearing up for another round of makeovers. For those in desperate need of aid, help is at hand with This Morning's new gardening series First Impressions. With Sven Wombwell and Diarmuid Gavin once again taking the helm, the battle is on to transform front gardens into glitzy, fabulous, curb appealing destinations. If you need help then visit This Morning to apply.
And finally, as the scurrying stress starts with present buying, decorating and attempting to create the ideal winter wonderland,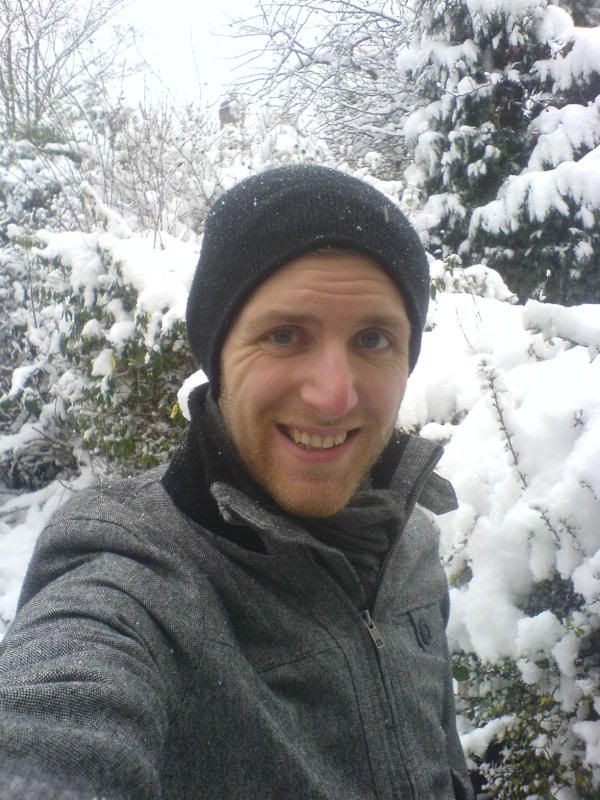 Merry Christmas!
The allotment is looking rather fantastic at the moment. Beds are dug, lawns are mowed, and veggies are bursting with growth. I cannot take much credit for this work, it's totally down to Mary and a number of new recruits. It quickly becomes the norm, that when relatives or friends come to stay, they're soon dragged off to the allotment and made to work for their keep. Fair's fair I suppose. The latest is Leone, a rather wonderful workerbee who has the energy of ten people. Taking the plunge, perhaps after spending far too much time with me, last Friday saw a dramatic change in her life as she quit her job in the city to follow her dreams. I'm no hippy, but I do feel that we all ought to live in self sufficient communes rather behind desks of monotonous grey. Wait, that does actually sound quite hippyish! Perhaps I'm a modern hippy, as although I'd love to live on a little self sufficient farm somewhere, I need my internet and living TV!
Leone soon started working over the beetroot and pea bed, helping the sweet peas to scramble forth as they begin to flower and pulling out the bindweed that continues to peep through the soil and take hold wherever and whenever it can!
The latest recruit gets in on the action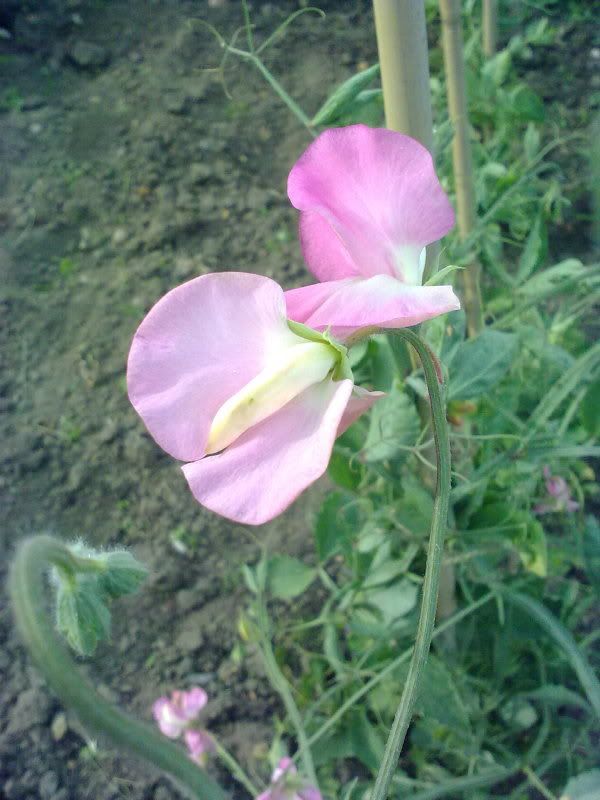 Sweet peas start to flower
Elswhere our makeshift salad and pea nets seem to have done a world of good. I can't believe the difference and the hardiness of the crops. They've bounced back very well and we harvested some of our first salads leaves last night. Wonderful. The Coriander is also shooting up, a little too far, so too stop its bolting I nipped out the tops and took off any leaves more than a couple of inches high. This should ensure continuous growth, rather than the plants going straight to seed.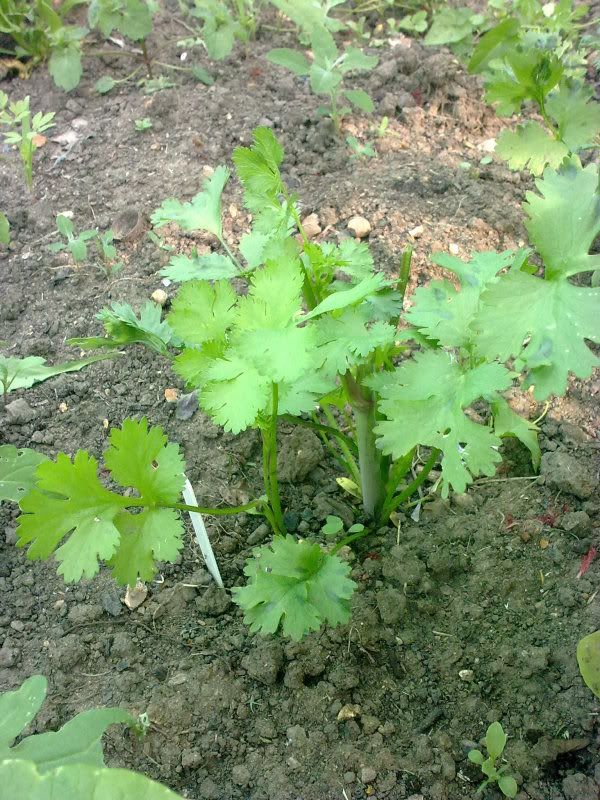 Take the tops out of Coriander to stop it bolting.
With the sun continuing to shine and looking as if we will indeed have a summer, a watering frenzy is sure to start. But we are having a wonderful crop at the allotment this year.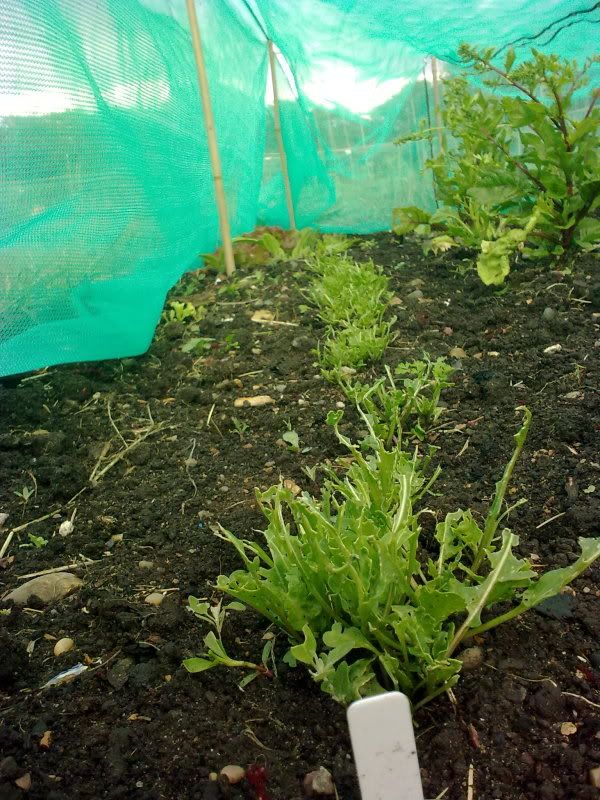 Pigeon attacked salads
Recovered Crops