The rain is still lashing down, meaning that todays jobs have had to be postponed for the time being. However, the weather last week was far from wet and gloomy, it was blue skies, baking sun and happy plants. The seedlings are coming along well, cosmos and marigold's will soon be ready to pot on. The lupins are putting out their first secondary leaves, whislt the beginnings of the Echinacea & Aquilega are pushing their tiny green sprouts through. The aster's haven't done particularly well, but I have a few plants to hopefully collect seeds from later this year.
On the grow your own side, the tomatoes have all germinated and I need to put them back into the mini greenhouse before they get to wet and cold. They far prefer a hot environment, so in days of rain and downpours, it is best to shelter them somewhere where they'll be protected. The chives, parsely and thyme are all coming on well, and the 30 or so lavender cuttings I took for the front herb/scented garden seem to have all rooted. Everything certainly seems to be thriving!
I can't believe it's May already! I've spent the last couple of days desperately trying to get my seeds going, seeds which I should have put in several weeks ago. Unforunately on my tiny little bit of suburban sprawl I don't have room for a full furnished greenhouse, so it's down to two mini greenhouses to accomplish the task. Actually, they are rather great and do the job just as well. But I do crave a huge, wooden greenhouse to potter about in, plus an Orangery! I want one of those so badly! Here's hoping.
So I finally got my first seeds in, Cornflowers, Marigolds, Lupins, Echinacea, Mesembrianthemum, Cosmos, Aquiliga, and I'm sure there's some others I've forgotten. I know it's a little later but I thought what the hell, if I don't get them in now I never will. I've been meaning to propogate on a broader scale for a couple of years now, just never got round to it. With so many gardening clients, and the fortune they spend buying new plants every year why not just cut out the middle man?! Buy straight from me instead….well that's the plan anyway. Oh, wouldn't it be great to have a small, old fashioned nursery where the plants are home grown, where the customer relies on quality and information instead of quantity and cheap stock that most modern places have these days. I'd love to sell veggies, have a little pets corner with a pig and chickens, and sell an assortment of bedding plants, shrubs, perrenials. Bliss.
Now….everyone use toilet paper but do you keep the toilet rolls or throw them away?! Don't bin them, keep them!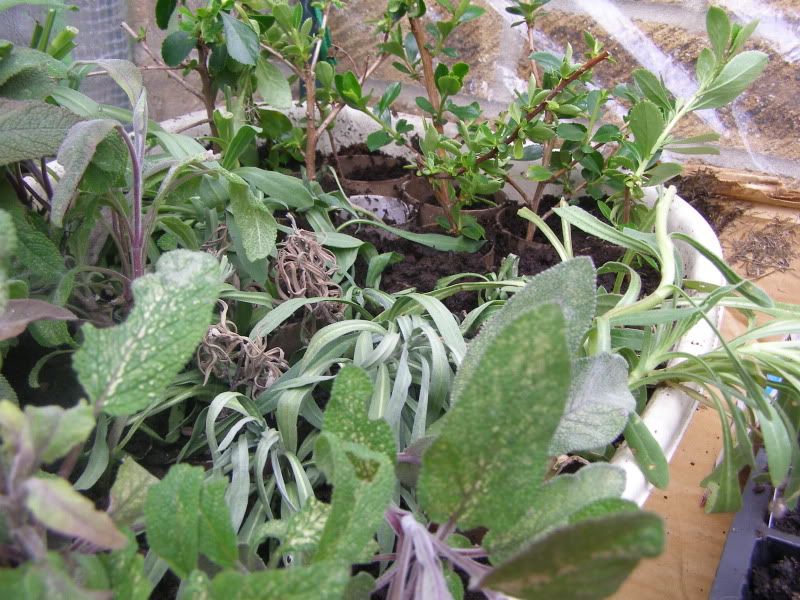 You can't see it very well, but toilet rolls are excellent for growing up cuttings. Simply cram a washing up bowl or similar container with as many as you can, and fill with compost. Into each roll you can then pop your cutting and wait for growth. This technique is great because as soon as certain plants are ready to pot on you can simply remove the tube without disturbing the other plants, that may be yet to take. You can then fill the hole with a new tube and start growing on a new cutting. Idea. It's also great for keeping everything moist and in prime, rooting condition!
I'm gearing up for the new gardening season and am starting to finally roll into my new client schedule. Today I was at a garden that was a complete shambles until I started on it, my client isn't a gardener at all, it was all her late husbands and it really had gone to rack and ruin. Like most of my clients she's very good and basically just lets me get on with gardening it how I want. I arrived today to a veritable feast of new plants that she'd been collecting over the past few months. Hotpokers, lupins, poppies, aquiliga, it was magnificant.
I LOVE when clients buy new plants, its almost if I've done the shopping and they're mine. I get to plant them, decide where they go and get paid to do it! Its a reason I love my job!
Feb/March is a perfect time to buy and get some new perrenial plants and summer flowering bulbs into the ground. Its warm enough for the roots to get growing on those sunny days but get to it quickly because the later you plant the less likely your little gem will have a chance to mature by its flowering season and you may have to wait until 2010 to see any real benefit.