This weather we're having in the UK might be somewhat turbulent, but there's no getting away from the fact that summer's here – even if it doesn't feel like it. At this of the year, many of the gardening jobs are actually done. Seeds have been sown, germinated and are ready to be planted out. Veggies are thriving away. It's one of those times that after you've mown the lawn and dead-headed a few flowers, there's actually time to sit back and relax.
I'm not sure how it's quite occurred, but my garden becomes rather flowerless during the summer. It's vibrant green, yes, but the blooms of spring have faded away and I lack the plants to keep the orchestra of colour continuing throughout the hot months. I have some spotlight plants – a couple of gorgeous perennial geraniums (left), peonies and the tropical extravaganzas that are agapanthus – but they only offer a gem-like splash to an otherwise foliage driven background. Not that foliage is boring, but I do like flowers!
I suppose, part of the problem I've had is snails. Some of my favourite summer plants, including rudbekia's and echinacea's, are easily eaten when they're seedlings, so it's vital to ensure that they're safeguarded against pests. Echinacea's quite like well drained soil, and I found they work well in large pots, so my next attempt is to grow a variety of plants in containers and place them into borders, hiding the pots with ground cover plants. With so many plants that produce multiple flowers in bright hues, it's a good idea to backdrop these plants with dense shrubbery. Shrubs that have already flowered for the year, such as cotinus and camellias, are particularly useful. And, if you really want to set plants off, planting lambs ears (stachys byzantina) at the base is a wonderful combination.
Other great plants for the summer, especially if you're creating a cottage garden or developing herbaceous borders, are achilleas (right) and penstemons. These fantastic plants offer vibrant blooms in their dozens, allowing you to really bring that summer feeling to any patch. Again, setting plants off against a neutral background of carefully placed shrubs, whilst using coloured foliage plants, such as ajuga or ophiopogon, helps to make the entire plant really 'pop' out of borders.
In my opinion, it's never too late to rush to the garden centre and buy some goodies. With much of the summer still ahead, you can still get plants into the ground and develop your borders for the sunshine and barbecues ahead. And, if you want to plan for the future, avoiding annual bedding plants and opting for longer lasting perennials instead, will provide you with many seasons of relaxation for years to come.


I sometimes feel that I'm in a bizarre world. On the one hand I am, and will continue to be a slightly hermity, organic and green gardener who loves nothing more than to hide away in a garden for hours on end and not talk to anyone. On the other, and of more recent times, I'm slipping into a world of tea and scones, picnics and pimms, and socialite polo and garden affairs. It's an odd feeling, I seem to enjoy both ends of the scale, though perhaps the socialite side is not as "green" as I'd like.
It's Leone's fault of course. Without her, Mary and I would be happy in our muddied clothes, our tea drunk out of the flask with nodules of soil floating around in it, a dirty dog and living a life of green uptopia. Add Leone to the mix and you get hand-made, willow woven picnic baskets, tartlets – yes, tarlets, made from hand picked raspberries and soft cream (not hand picked I hasten to add, though I wish and pray, we havent' got round to getting a cow – yet), hand crafted and knitted blankets and hats, and a general feel of strange social chic. Not that I object. If we can find a way to have all these things, yet maintain as much carbon neutrality and organic produce I'll be a happy man. And of course, Leone makes willy wonka cakes – one's with so much willy wonka's chocolate in them that they give the odd hallucination. She pickles freshly picked beetroot. She produces all manner of things at the precise time that you wished you'd remembered them.


Tea cups and Tartlets – only Leone would add this glamour
Yesterday it was Hampton Court Palace Garden Show, Tudor themed this year. Not that I've been before so I'm not sure what other years may have been themed. After a 5hour round trip commute – I kid you not, the traffic was unbelievable, and a slightly grey character due to my morning running effort, I stumbled around in more of a daze than an inspired trance. Of course, there were things to inspire – a wildlife wall for one, a cutting garden another. Echinacea, Cosmos and the pretty, annual cornflowers seemed to dominate the small number of gardens we saw. Grow-Your-Own was HUGE, with allotments, crops and chickens all on display.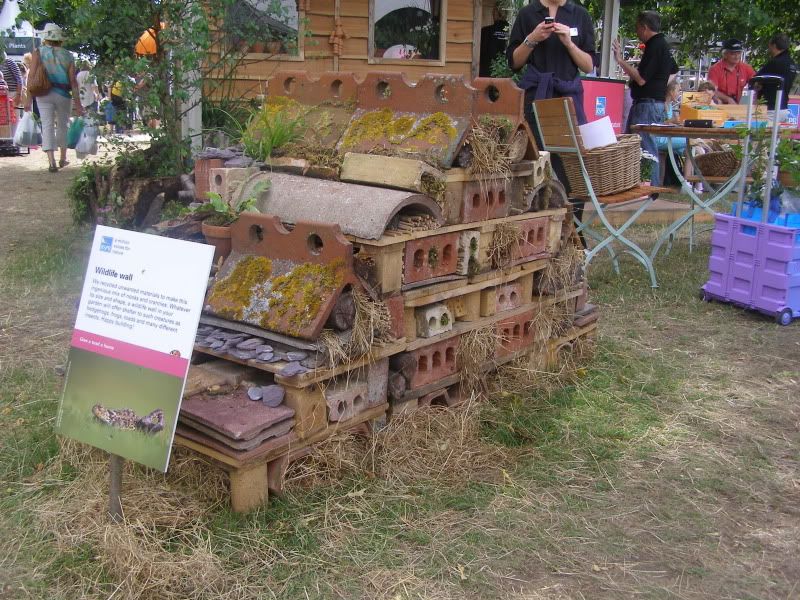 A wildlife wall could be salvaged from most skips
Whilst Hampton Court was far, far larger than Chelsea, I'm undecided which is better. For the garden consumer, the hobbyist who wants to see a little of everything, perhaps Hampton is better. It has an airy, spacious country show feel. However, I did find myself missing the displays of Chelsea, the lack of show gardens for planting and sculptural inspiration, and though Hampton's marquee's were beautiful, I still think Chelsea has the edge.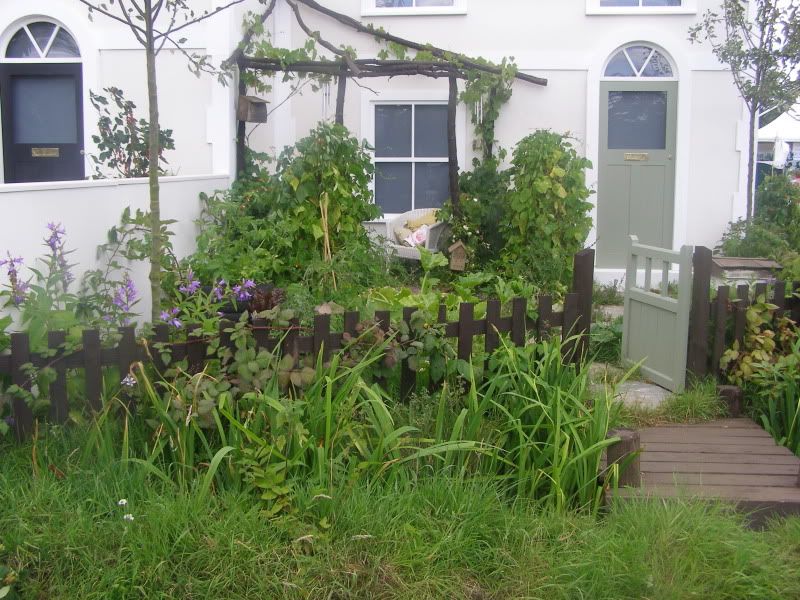 Show gardens were lacking but this front garden allotment, aptly named Edibly Unkempt shows that veg can be found anywhere
I bought some beautiful plants though…..including a deliciously chocolately penstemmen and a burnt orange David Austen rose called "Summer Song". Four random lavenders for £1 and a Verbena were added to the mix. Oh, and I've decided I really want to be a plant porter at one of these shows!
The rain is still lashing down, meaning that todays jobs have had to be postponed for the time being. However, the weather last week was far from wet and gloomy, it was blue skies, baking sun and happy plants. The seedlings are coming along well, cosmos and marigold's will soon be ready to pot on. The lupins are putting out their first secondary leaves, whislt the beginnings of the Echinacea & Aquilega are pushing their tiny green sprouts through. The aster's haven't done particularly well, but I have a few plants to hopefully collect seeds from later this year.
On the grow your own side, the tomatoes have all germinated and I need to put them back into the mini greenhouse before they get to wet and cold. They far prefer a hot environment, so in days of rain and downpours, it is best to shelter them somewhere where they'll be protected. The chives, parsely and thyme are all coming on well, and the 30 or so lavender cuttings I took for the front herb/scented garden seem to have all rooted. Everything certainly seems to be thriving!
I can't believe it's May already! I've spent the last couple of days desperately trying to get my seeds going, seeds which I should have put in several weeks ago. Unforunately on my tiny little bit of suburban sprawl I don't have room for a full furnished greenhouse, so it's down to two mini greenhouses to accomplish the task. Actually, they are rather great and do the job just as well. But I do crave a huge, wooden greenhouse to potter about in, plus an Orangery! I want one of those so badly! Here's hoping.
So I finally got my first seeds in, Cornflowers, Marigolds, Lupins, Echinacea, Mesembrianthemum, Cosmos, Aquiliga, and I'm sure there's some others I've forgotten. I know it's a little later but I thought what the hell, if I don't get them in now I never will. I've been meaning to propogate on a broader scale for a couple of years now, just never got round to it. With so many gardening clients, and the fortune they spend buying new plants every year why not just cut out the middle man?! Buy straight from me instead….well that's the plan anyway. Oh, wouldn't it be great to have a small, old fashioned nursery where the plants are home grown, where the customer relies on quality and information instead of quantity and cheap stock that most modern places have these days. I'd love to sell veggies, have a little pets corner with a pig and chickens, and sell an assortment of bedding plants, shrubs, perrenials. Bliss.
Now….everyone use toilet paper but do you keep the toilet rolls or throw them away?! Don't bin them, keep them!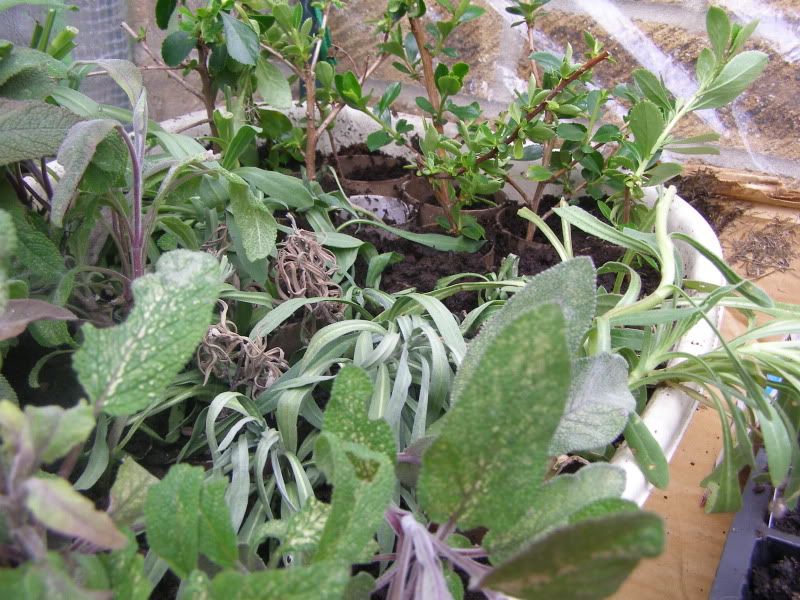 You can't see it very well, but toilet rolls are excellent for growing up cuttings. Simply cram a washing up bowl or similar container with as many as you can, and fill with compost. Into each roll you can then pop your cutting and wait for growth. This technique is great because as soon as certain plants are ready to pot on you can simply remove the tube without disturbing the other plants, that may be yet to take. You can then fill the hole with a new tube and start growing on a new cutting. Idea. It's also great for keeping everything moist and in prime, rooting condition!