I don't know about you, but the start of this veggie growing year has begun rather late. I had too much going on in November to get broad beans or overwintering onions in, so the allotment has been completely sparse of any harvests at all. An above freezing day in February got my sowing juices going and I put some broad beans in which, when placed upon the windowsill, quickly germinated and shot towards the sky. This year I made the positive step of actually acclimatising the seedlings fairly on so, yes, whilst they've got leggy, they're not as bad as usual. The small sweet peas that I put in around the same time have also been hardened off – to the extent that they were snowed on and survived – so they've now been planted out along the fencing.
They may be leggy, but they're planted (broad beans)
With the warm weather finally arriving this past weekend, the first broad beans are in, 120 potatoes have been planted and two rows of parsnips are now sown in the increasingly warming beds. The potatoes range vastly, but I'm glad to have got some charlottes (my favourite) and pink fur apples (a great rot-resistant or so I've found potato) in. Luckily, a huge delivery of wood clippings has allowed us to finally get rid of the grass paths completely and mulch the entire plot. Not only should this reduce mowing times, but it'll also ensure that there are less avenues for those belligerent couch grass roots to invade our beds and pull precious time away from growing. Last year was a hell-of-a-year for veggies, with slugs and the wet weather resulting in minimal harvests all round. 2013? This year just has to better!
The grass paths are banished…now just to clear this bottom bed!
With the year scurrying by at break neck speed, life at the allotment also hurtles on. Many crops are already over, others are burgeoning, but most importantly, many are ready to pick! Weeds are sprouting every which way, but Mary's unique talent at aquiring new recruits has kept most at bay and with the slight reclassification of certain plants there seems less to do. This seems to be a fantastic way of endearing even the most weed ridden of patches, for now comfrey is organic fertiliser, fat hen is actually food for my feathered hens, and spindling tendrils of bindweed are natures natural blooms! It's all in the mind, a change in social grooming in what constitutes a weed, it works wonders!
With the sun powering through streams of greying clouds, we dressed for the occasion, our best summery attire, grabbed a hand woven trug and set off to harvest. The salads are a constant bite of deep, flavoursome aroma's. The beetroot are erupting through the earth, ready to be taken and pickled, grated, "borsh'd". The last of the summer fruits were clinging to bare stems, before of course they disappeared into our mouths, picked by nimble fingers. Coriander leaves bolt skywards, constantly clipped to hold back flowering, and sweet peas cast pastel sprinklings across a green uptopia.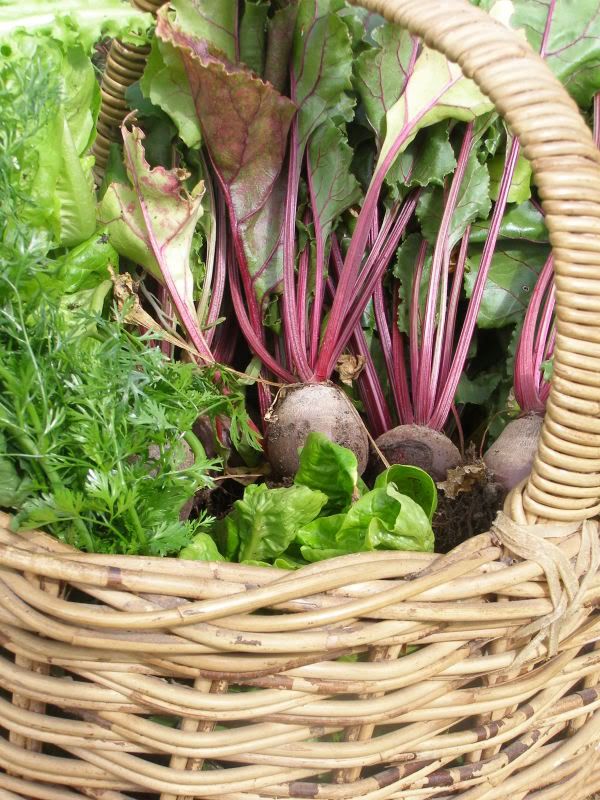 The basket is quickly filled
Elsewhere the sweetcorn is surprisingly shooting up, courgettes and butternut squash are putting our their huge sun coloured flowers to the bee's, and potatoes continue to engorge below the surface. The over wintering onions were a wash out, but newly planted sets are finally beginning to plump and round off, whilst tiny leek stems gradually begin to thicken their way towards beautiful stews and soups.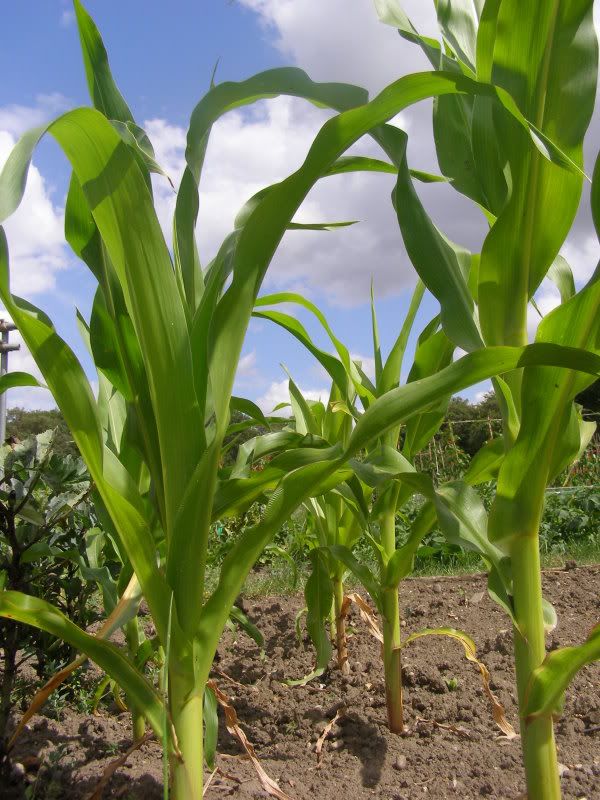 Gardening in the city really is an inspiring endeavour. My hippy heart wants to retire to the country, build a wood cabin and have peace, love and quiet frivolity (surrounded by organic lush gardens of course). However, it seems the best of the both worlds can truly be had if worked for, and whilst London is on my doorstep, its pulsing, raving beats filling the streets, a quiet green oasis is lurking in the shadows, luring us greenie's in. It's quite incredible to see everything growing so quickly and with the best reward at the end, fresh, organic food for the table, what could be better….well our plot rocketing up the allotment league table probably adds the icing on the cake. Well done Mary.
Marigolds, Sweet Peas and Dahlia's add vibrant splashes of colour
To see the afternoon's photo's click here
Plants across Britain must be singing a merry song after the weather they've enjoyed this week. A grey and wet start gave them the much needed juice they needed, whilst the hot latter ending to the week has brought on an explosion of growth, greeness and goodness. Crisp lettuces, spindling peas and burgeoning potatoes are just some of the merry assortment that have enjoyed the great British weather. Down on the allotment, a secret oasis hidden in the trees, bee's have been buzzing, birds flitting and mice, by the look of some of the seeds and strawberries, have most definately been nibbling!!
After an exhausting 9mile run in inhospitable weather, I finally graced the allotment with my presence. Stumbling down in the early evening, the heat of the day gradually subsiding though a bright clear sky still shining, it was the time for weeding. And how things have grown! The march of the potatoes has most definately begun, with many over wintering survivors poking heads above the surface as they sneak their way for some sun. Having obviously missed a few potatoes in the earth, they certainly have proved to be anything other than shrinking violets and are defiantly trying to show their worth. The sweet peas, after their initial root disturbing transfer, are recovering well from their die off. Strawberries are looking like fat brits on holiday – baked bright red on one side, their pale white undersides hiding in the shade.
There have been a few nibbles. The french beans have taken the hit, with only a couple of survivors struggling through. The poor broad bins, covered in a blight of black fly, have all but surrendered, and the broccoli not covered with meshing are looking distinctly colinder like. But this is part of allotment growing, you take the hits and carry on regardless. Already we are doing far better than last year and we have some help from our red and black friends. Bustling everywhere, the ladybirds and their war-like young were snacking on an onslaught of green, sucking aphids. Their armies already covered plants, sucking them dry, I'm sure our little ladies may not make much of a dent, but at least they are our first defence!
Tomorrow we have more muscle making its way down, to help rotivate and dig over the dahlia bed. In time I'm sure it will become pocketed with crops, but for now it will be our beautiful extravaganse!

The salads are ever growing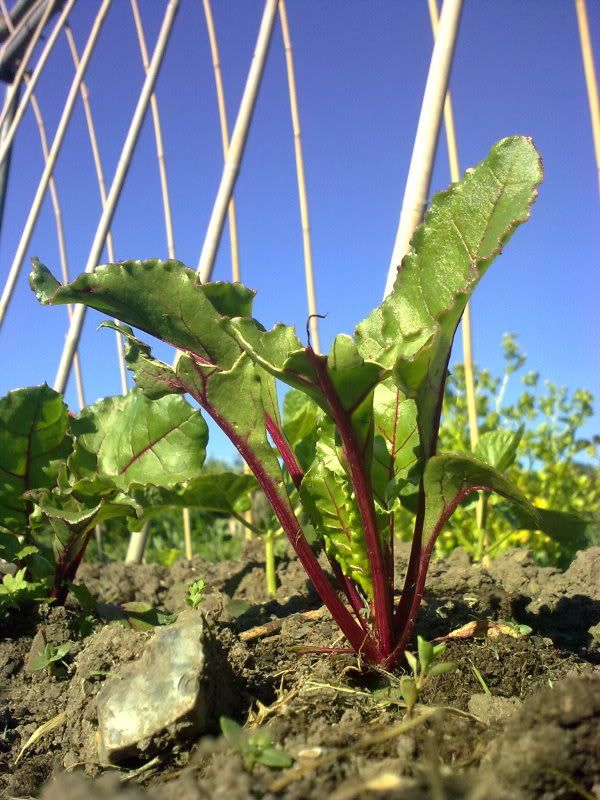 A beetroot stands strikingly against the sky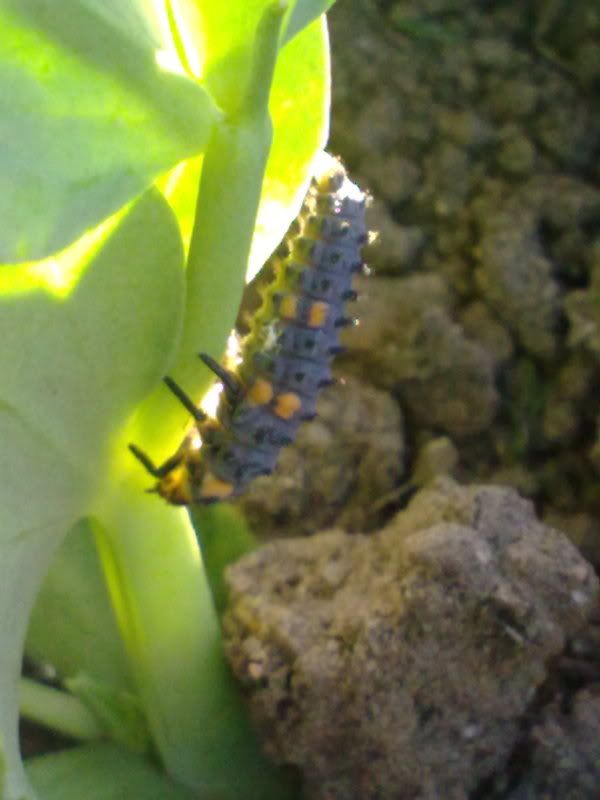 A lone soldier marches his way through an army of aphids
I have to admit, work on the allotment has been rather lacklustre of late. I find motivation to actually leave the house and head over to our little farm rather hard to come by, and by the time I've finished work, worked out, or generally caught up on other chores, the last thing I want to do is go out again. Added to the fact that marathon training claimed most of my life for three months, the beginning of this year has flown past me.
It was with relief that this recent bank holiday brought good weather, happy attitudes and an easing of post marathon aches in my limbs. Heading to the allotment, seeds, rotivator and man – yes – an actual man, in tow I can't believe how much we got done. Its amusing to see how much difference can be made by having someone on board who really knows how to do large and intuitive projects. Whilst I prefer to titivate borders, Mary has a keen love for soil quality and thus some of the larger projects always get left and forgotten. But Tony! He managed to put up the netting for our gloriously fruiting shrubs, construct a new compost bin, seemingly only seconds after we'd mentioned we needed on, and even created a engineering extravaganza allowing the dog to wander freely over our allotment but not anyone elses!
We seem to finally have things under control. The pototoes – Charlottes, Foremost, Kestrel and Picasso are all in with the Foremost already shoving their green tips through the crusty surface. Sweet peas and runner beans are spindling their way up poles, lettuce and green seeds are in, peas are poking up their heads, and soon, I hope, the butternut squash will join the thronging masses. But it is summer pudding alley that it looking spectacular. Well, actually its rather weedy….but the fruit! A few rogue raspberries and strawberries made it through last year, but we are looking to have a bountiful crop this year. Especially now the cage netting is up. I can't wait for homemade goosberry fool!
Lets hope this change in motive direction keeps up its pace!
Can't wait for goosberry fool!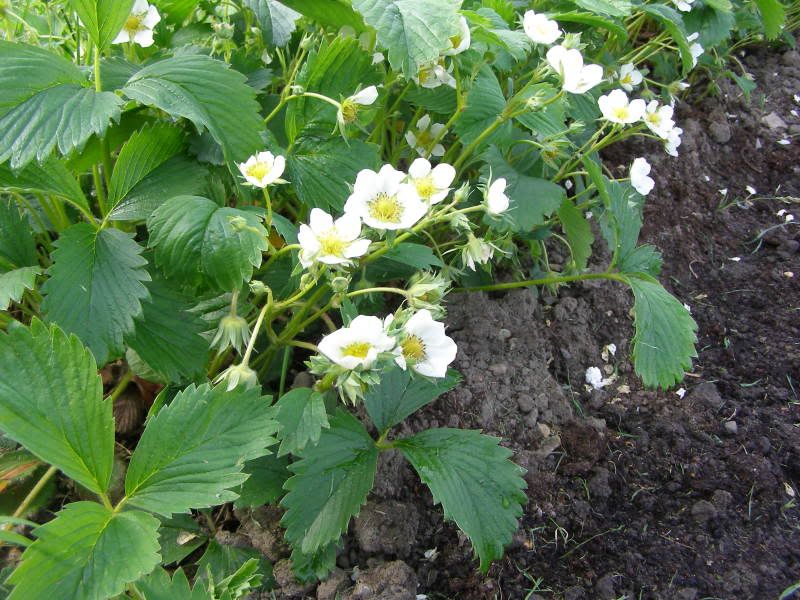 The strawberry plants are looking good too.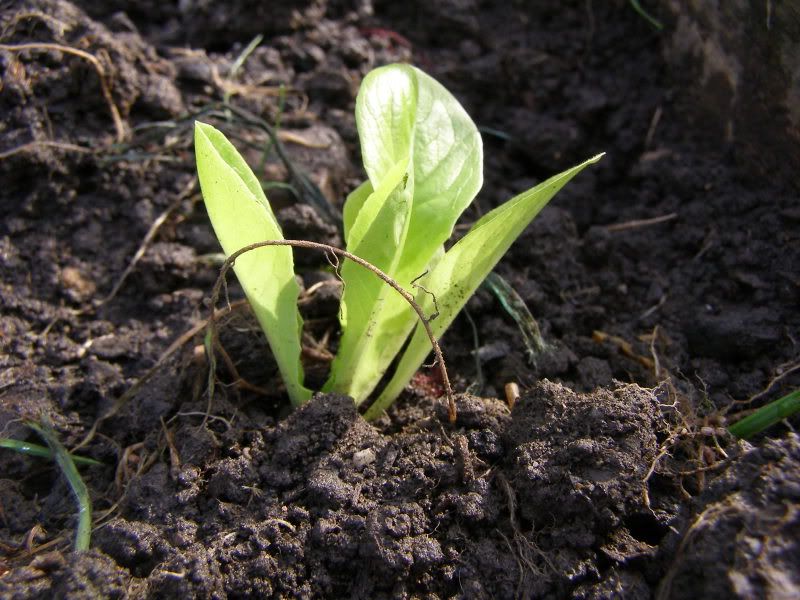 The first of the salad crops are starting to appear.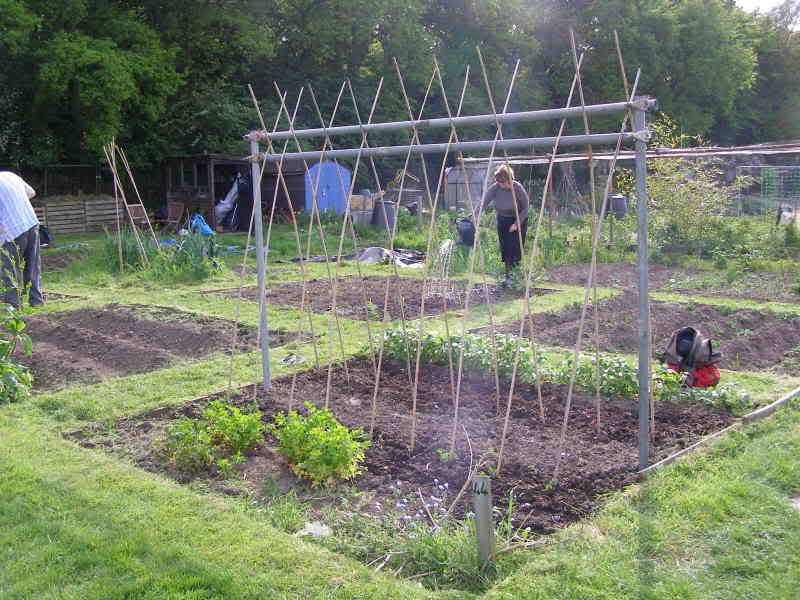 The allotment is finally starting to look a little tidier!
With a year of potato growing under my belt and the basic growing practices added to my knowledge its time to start the new season. In fact, it's way past starting the new season but as usual I've been lack lustre in getting my arse in gear and actually getting those spuds in the ground. Last years Foremost and Charlotte did well, we have nothing to compare our "bumper" crop to so will a little help and experience maybe this year will be even better.
2009 asked for a little experiment. It is advisable to chit potatoes to help them establish themselves once placed in the soil and get a good early start to growing. The process is quite simple, you simply leave the potatoes out in the light, their growing corns face up and allow tiny shoots to appear. Egg boxes and cartons are ideal for individually chitting or you can huddle many together as long as they are facing up towards the light.
Huddled together the Foremost shoots are visible as they begin to chit.
You don't want to allow this process to occur for too long however. Chitting up to the stage above or a little longer is ideal but longer, wispy shoots will not help build large, strong, crop bearing plants. A couple of weeks ago two rows of Foremost were planted directly into the soil and today I laid three beds of chitted Foremost. It will be interesting to see whether the different processes yield different cropping quantities.
Planting potato crops is fairly easy. Digging trenches and setting your spuds six inches down and approximately 18inches apart simply cover them back over forming a pyramid. This is easily done by scooping the soil eitherside of your trench over the top of the row. The benefits of this process are great. It not only helps heat up the soil due to a greater surface area, encouraging your plants to grow, but also means that when it comes to harvesting you won't have to dig so deeply to get to your labours rewards. For the initial stages as the buds of the potatoes appear through the soil mound more and more soil on top, especially to those shoots that appear through the sides of the pyramid, this encourage stronger plants and hopefully more crop at the end.
Potato Pyramids have many benefits.