With the year scurrying by at break neck speed, life at the allotment also hurtles on. Many crops are already over, others are burgeoning, but most importantly, many are ready to pick! Weeds are sprouting every which way, but Mary's unique talent at aquiring new recruits has kept most at bay and with the slight reclassification of certain plants there seems less to do. This seems to be a fantastic way of endearing even the most weed ridden of patches, for now comfrey is organic fertiliser, fat hen is actually food for my feathered hens, and spindling tendrils of bindweed are natures natural blooms! It's all in the mind, a change in social grooming in what constitutes a weed, it works wonders!
With the sun powering through streams of greying clouds, we dressed for the occasion, our best summery attire, grabbed a hand woven trug and set off to harvest. The salads are a constant bite of deep, flavoursome aroma's. The beetroot are erupting through the earth, ready to be taken and pickled, grated, "borsh'd". The last of the summer fruits were clinging to bare stems, before of course they disappeared into our mouths, picked by nimble fingers. Coriander leaves bolt skywards, constantly clipped to hold back flowering, and sweet peas cast pastel sprinklings across a green uptopia.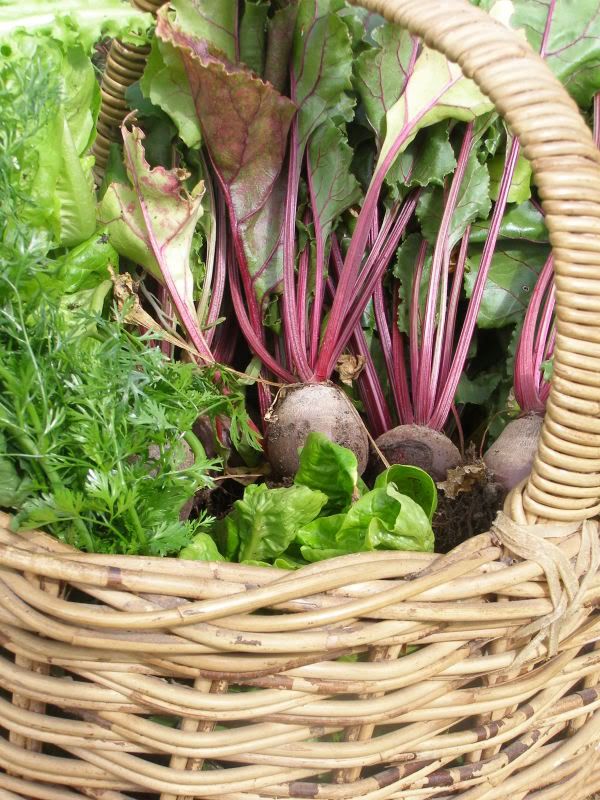 The basket is quickly filled
Elsewhere the sweetcorn is surprisingly shooting up, courgettes and butternut squash are putting our their huge sun coloured flowers to the bee's, and potatoes continue to engorge below the surface. The over wintering onions were a wash out, but newly planted sets are finally beginning to plump and round off, whilst tiny leek stems gradually begin to thicken their way towards beautiful stews and soups.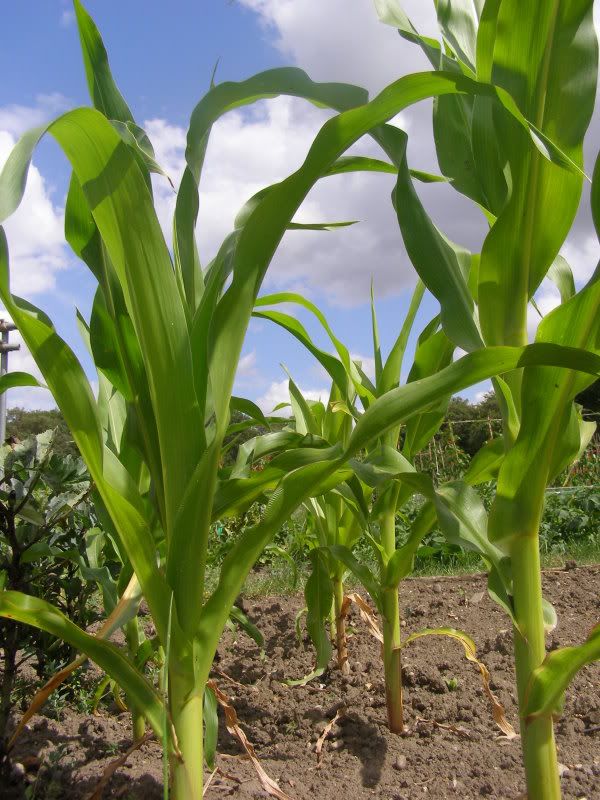 Gardening in the city really is an inspiring endeavour. My hippy heart wants to retire to the country, build a wood cabin and have peace, love and quiet frivolity (surrounded by organic lush gardens of course). However, it seems the best of the both worlds can truly be had if worked for, and whilst London is on my doorstep, its pulsing, raving beats filling the streets, a quiet green oasis is lurking in the shadows, luring us greenie's in. It's quite incredible to see everything growing so quickly and with the best reward at the end, fresh, organic food for the table, what could be better….well our plot rocketing up the allotment league table probably adds the icing on the cake. Well done Mary.
Marigolds, Sweet Peas and Dahlia's add vibrant splashes of colour
To see the afternoon's photo's click here
The allotment is looking rather fantastic at the moment. Beds are dug, lawns are mowed, and veggies are bursting with growth. I cannot take much credit for this work, it's totally down to Mary and a number of new recruits. It quickly becomes the norm, that when relatives or friends come to stay, they're soon dragged off to the allotment and made to work for their keep. Fair's fair I suppose. The latest is Leone, a rather wonderful workerbee who has the energy of ten people. Taking the plunge, perhaps after spending far too much time with me, last Friday saw a dramatic change in her life as she quit her job in the city to follow her dreams. I'm no hippy, but I do feel that we all ought to live in self sufficient communes rather behind desks of monotonous grey. Wait, that does actually sound quite hippyish! Perhaps I'm a modern hippy, as although I'd love to live on a little self sufficient farm somewhere, I need my internet and living TV!
Leone soon started working over the beetroot and pea bed, helping the sweet peas to scramble forth as they begin to flower and pulling out the bindweed that continues to peep through the soil and take hold wherever and whenever it can!
The latest recruit gets in on the action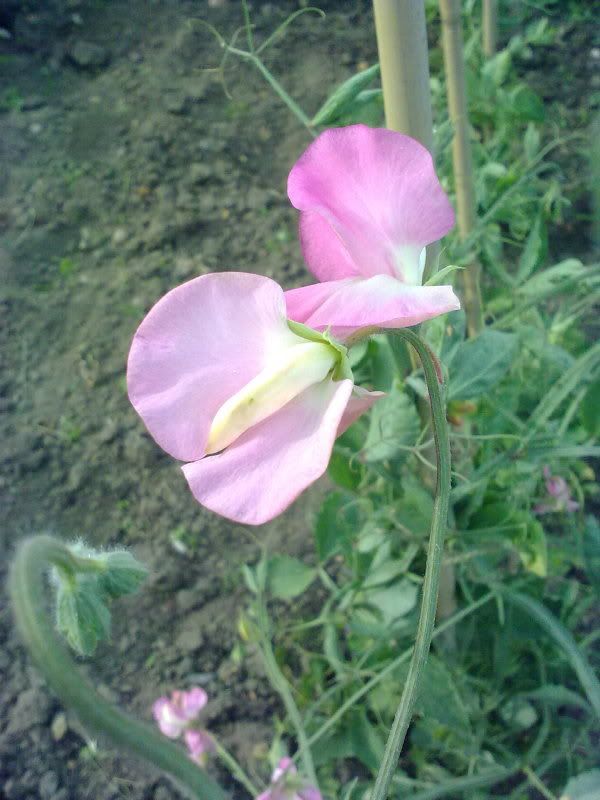 Sweet peas start to flower
Elswhere our makeshift salad and pea nets seem to have done a world of good. I can't believe the difference and the hardiness of the crops. They've bounced back very well and we harvested some of our first salads leaves last night. Wonderful. The Coriander is also shooting up, a little too far, so too stop its bolting I nipped out the tops and took off any leaves more than a couple of inches high. This should ensure continuous growth, rather than the plants going straight to seed.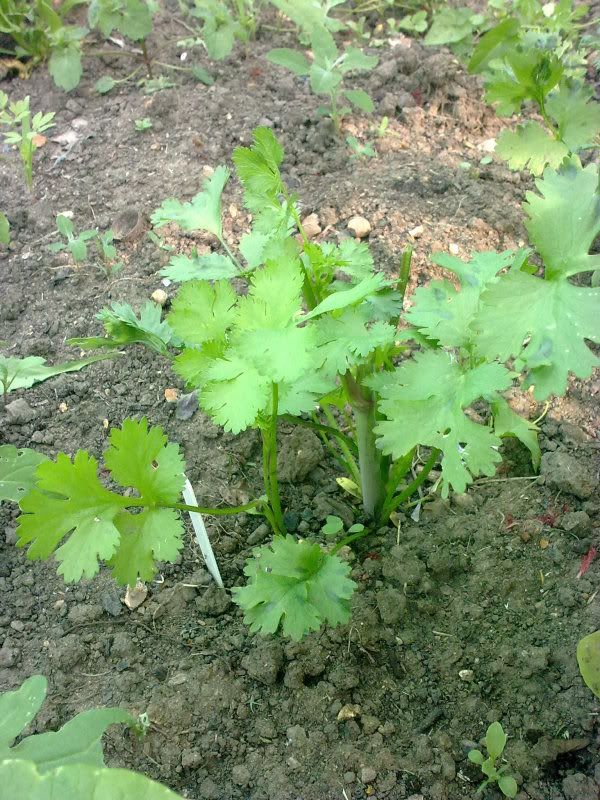 Take the tops out of Coriander to stop it bolting.
With the sun continuing to shine and looking as if we will indeed have a summer, a watering frenzy is sure to start. But we are having a wonderful crop at the allotment this year.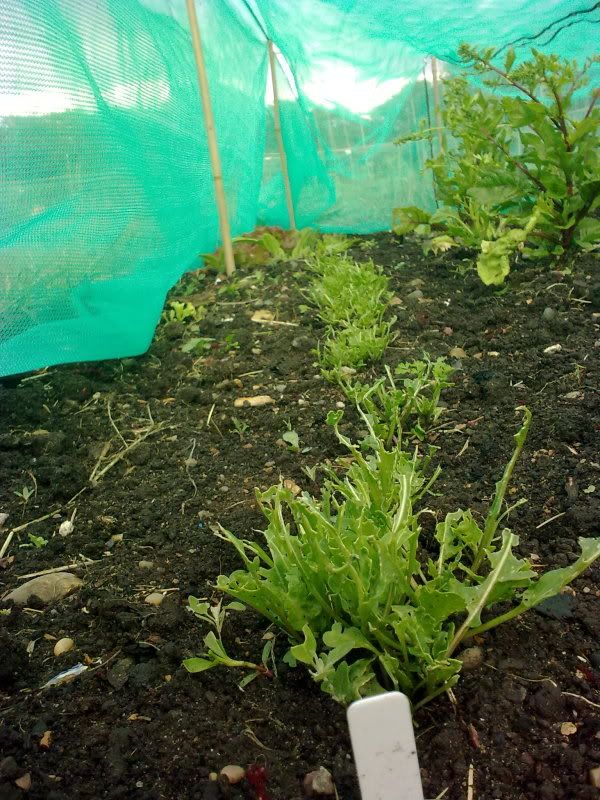 Pigeon attacked salads
Recovered Crops
Plants across Britain must be singing a merry song after the weather they've enjoyed this week. A grey and wet start gave them the much needed juice they needed, whilst the hot latter ending to the week has brought on an explosion of growth, greeness and goodness. Crisp lettuces, spindling peas and burgeoning potatoes are just some of the merry assortment that have enjoyed the great British weather. Down on the allotment, a secret oasis hidden in the trees, bee's have been buzzing, birds flitting and mice, by the look of some of the seeds and strawberries, have most definately been nibbling!!
After an exhausting 9mile run in inhospitable weather, I finally graced the allotment with my presence. Stumbling down in the early evening, the heat of the day gradually subsiding though a bright clear sky still shining, it was the time for weeding. And how things have grown! The march of the potatoes has most definately begun, with many over wintering survivors poking heads above the surface as they sneak their way for some sun. Having obviously missed a few potatoes in the earth, they certainly have proved to be anything other than shrinking violets and are defiantly trying to show their worth. The sweet peas, after their initial root disturbing transfer, are recovering well from their die off. Strawberries are looking like fat brits on holiday – baked bright red on one side, their pale white undersides hiding in the shade.
There have been a few nibbles. The french beans have taken the hit, with only a couple of survivors struggling through. The poor broad bins, covered in a blight of black fly, have all but surrendered, and the broccoli not covered with meshing are looking distinctly colinder like. But this is part of allotment growing, you take the hits and carry on regardless. Already we are doing far better than last year and we have some help from our red and black friends. Bustling everywhere, the ladybirds and their war-like young were snacking on an onslaught of green, sucking aphids. Their armies already covered plants, sucking them dry, I'm sure our little ladies may not make much of a dent, but at least they are our first defence!
Tomorrow we have more muscle making its way down, to help rotivate and dig over the dahlia bed. In time I'm sure it will become pocketed with crops, but for now it will be our beautiful extravaganse!

The salads are ever growing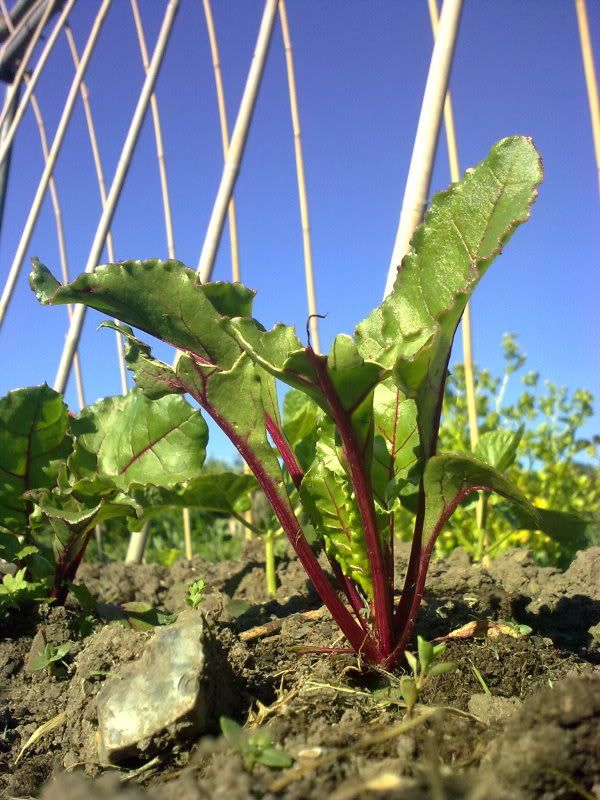 A beetroot stands strikingly against the sky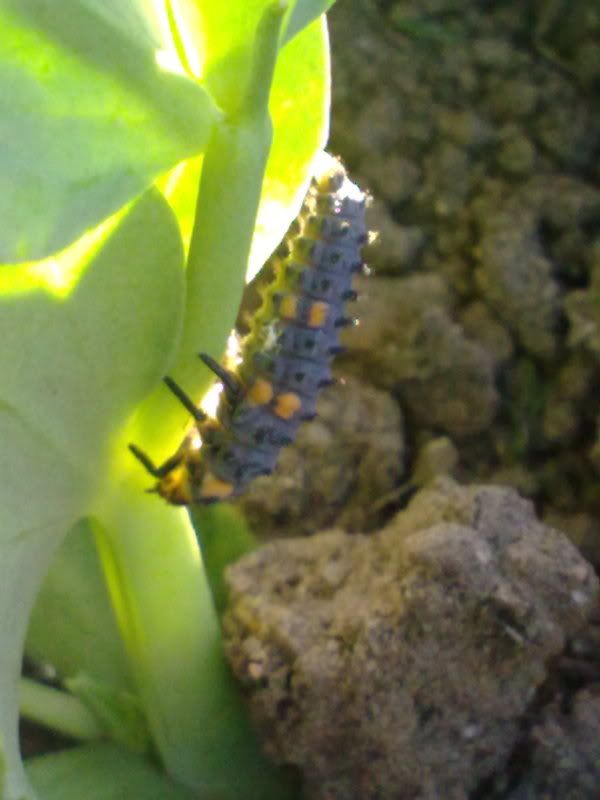 A lone soldier marches his way through an army of aphids