Well winter is certainly upon us, and with soft billowing wisps of snow bringing some Christmas cheer and delaying any gardening work I had planned, I'm taking the opportunity for a quick update. Any gardener knows, even when the cold draws in and hours of light become severely stunted, there is always something to be getting on with in the garden. Leaves can continue to be swept, kept and turned into leaf mulch. Landscaping changes can be made, whether its simply putting down a new path or overhauling the garden completely. Hibernating tree's can be pruned, especially those fruit tree's which have becoming gangly over the years and general winter maintanance such as protecting plants, tiying back tree's and moving shrubs can continue.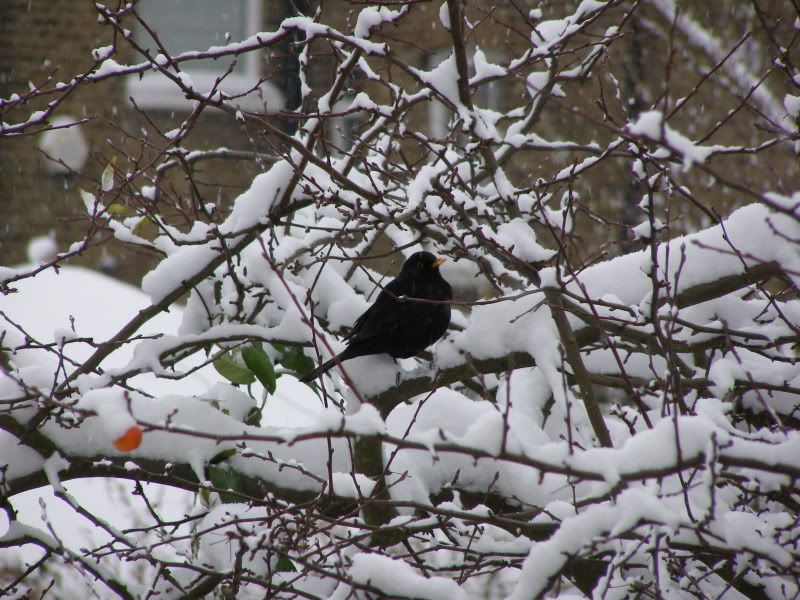 A proud Black Bird gleams in his white wonderland
At the allotment, whilst the frost is definatley nipping at Jack's toes, the broad beans planted last month have pushed their heads through the earth, clambouring for some wintery sun. Little clean green gems, fresh and new. Overwintering onions sit patiently, peeping upwards, waiting for sporadic warmth to start bulging their bulbs. Meanwhile, though Autumn has flown by, any last bulbs can be quickly planted before the new year is upon us, drinks, banners and party poppers flying. Once January comes the time for ensuring spring bulb flowers is over, and though bulbs can theoretically still be planted, they won't flower until the following year.
Meanwhile, as my plans to rip out my current green space and create something new and exciting seem to have waned a little, the TV garden calender is gearing up for another round of makeovers. For those in desperate need of aid, help is at hand with This Morning's new gardening series First Impressions. With Sven Wombwell and Diarmuid Gavin once again taking the helm, the battle is on to transform front gardens into glitzy, fabulous, curb appealing destinations. If you need help then visit This Morning to apply.
And finally, as the scurrying stress starts with present buying, decorating and attempting to create the ideal winter wonderland,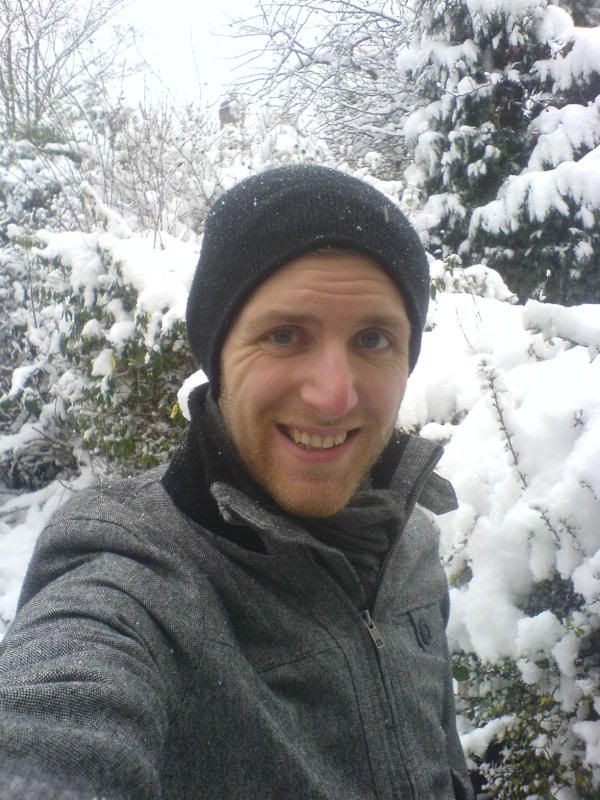 Merry Christmas!
Whilst the season continues to change at rapid speed, I seem to have lost my way with the Guide to Gay Gardening. As my statistics go through the roof, mainly due to the picture of the miniature pigs that I posted some time ago, content has been rather short in coming so I apologise.
However, whilst the gay gardener may have not been writing, he has sure been gardening! 'Help I Hate My Garden" is a fantastic segment on ITV's 'This Morning' programme that I've been working on alongside Sven Wombwell and Diamuid Gavin. Throwing myself into gardening all day, and what felt like all night too. So far, three of the projects I was involved in have aired, with the fourth and last to come later this month. And what with our new series 'Garden Clippings' also about to start production it all seems very busy!
As I prepare to switch my sore, rough gardening hands for some pampered, moisturised writing ones feel free to check out one the shows which has been uploaded online from the link below, and keep your eyes out for fleeting glimpses of the gay gardener!
Meanwhile I'll get cracking with a few tasty morsals for the Guide to Gay Gardening.