It's THAT time of the year. You know what I mean….you arrive home from work. It's dark. It's gloomy. But, 'oh look', there's a huge stack of seed catalogues to snuggle up to. You warn yourself only to look, to order a couple of packets at most, but before you know it there are packets and boxes and envelopes of exciting seeds, bulbs and other goodies arriving at your door.
I've had my first – a Dobies delivery with a couple of essentials….but, I'll admit, mostly luxuries. Man…new plants! Wahey!
For the kitchen garden I picked up my favourite broad beans – Aquadulce Claudia. They're reliable and you put them in before Christmas. I've always found these overwintering broad beans are more resistant to blackfly in the long run; a must-have feature. However, the warm winters recently have been a problem, allowing plants to grow and then get frost bitten later. I also ordered some Beetroot (Chioggia Pink). I've fallen for beets in a big way. For some reason I always thought they were hard to incorporate into meals – but they're delicious. So LOTS more for 2017.
Meanwhile, I have cosmos, alchemilla and zinnias for the cutting garden. I also want to grow loads of marigolds and experiment with some wool/feather dying and making hand lotions etc. See the full list of seeds below:
Broad Bean – Aquadulce Claudia
Artichoke – Purple de Provence
Beetroot – Chioggia Pink
Cyclamen Hederifolium – Winter Cheer
Cosmos – Apollo White F1
Achillea – Noblessa
Alchemilla – Giant Molly
Wallflower – F1 Sunset Red
Calendula – Citrus Daisy Mixed
Calendula – Snow Princess
Zinnia – Illumination
I'm sure this won't be the last delivery. The cyclamen have already been sown, and the broad beans will be to follow. Shame I have to wait until next year for the rest….
If you're anything like me, especially if you're only starting out, you're a little cautious when it comes to pruning. I mean, you don't want to chop too much off in case you kill your beloved plant. So, when it comes to lavender plants, it's worthwhile following the guidelines. However, I quickly realised that my careful snipping meant plants were gradually getting larger, leggier and woodier in the core. And the problem with lavender is that it won't grow from dead wood. It means that your once bushy plant soon becomes a trailing disaster with all the leaves on the ends of thick, gnarled wood.
So, if you're looking at how to prune lavender, here's what I do. I warn you; I'm pretty brutal. BUT I do find it comes back brilliantly. If you're not this brave, cut back so there are three or four buds. That way at least you'll keep some shape.
Good luck!
I have to admit; this year's been a bit of a bust regarding the cutting down. I severely underestimated the state of the soil in this new garden, and probably forgot just how much material I added to my old one. I was there for 10 years after all; over that time I must've added LOTS of compost.
So, in a bid to improve the cutting garden for 2017, I'm starting some annuals early and I've documented all in a Brimwood Farm video. Here's to a plethora of bouquets next year!
Sowing, germinating and growing on has been problematic this year. I started 2016 with a plan. I had a list of vegetables I wanted to grow. I planned when to sow, how long they'd take to germinate, the dates to plant out and times to successionally sow. Has that worked? No!
The problem I've had – I don't know about you – is that though all the seedlings started off well, cold, wet weather stopped them in their tracks. So they languished, ungrowing, awaiting a warm spell. And this meant trouble, because all that rain has encouraged slugs and snails ready to bite. So, I lost my first crop of cucumbers and squashes and beans. My peppers didn't germinate, and then when they did a rogue chicken got them. My aubergines are growing….slowly.
With the garden centre having a 50% off sale today, I've decided to have a last ditch attempt. After all, the sowing periods on seed packets are a guide based on optimal conditions. We haven't had those conditions. SO, though the gherkin, cucumber and courgette seeds say last plant May/June, today I've sown them. The same goes for a new batch of beans. I've also done another successional sowing of carrots. Last year I was still getting ripe tomatoes from the greenhouse in November, and we often have an Indian Summer in October now. Of course, now I'm doing this little test it'll probably get cold early – sod's law.
There have been some positives though. I picked a glut of broad beans and kale today to go with one of the chooks I killed on Saturday. The onions are also beginning to swell nicely, whilst the nasturtiums are doing their job and attracting aphids away from the vegetables.
I am happy to see some progress in the ornamental garden too. I've been taking A TONNE of cuttings, both to use for my own purposes and to sell. I've discovered the area of Plant Breeder's Rights (PBR); a whole intricate area of legislation referring to the propagation of plants. I can completely understand that if you bring a new hybrid to market, you want to get some royalty for that plant to pay for the years of work. However, there seems to be an extremely inadequate system for governing this process. So, for now, I'm not getting involved, and propagating older varieties that are not included in the more modern PBR laws. I took a little video of some box cuttings.
The dahlias are also coming into life, though once again, the slugs seem to have got the first few buds. However, a few nightly stomps and their numbers are down so I'm finally getting some blooms!
All in all it's proving to be a funny year, with some plants romping away and others being extremely lacklustre. Now we're into July, I really hope we get some proper sunshine though – this is Britain – the torrential rain will probably continue.
You might think that snow is a gardener's worst nightmare, and yes, if it arrives in April when you've got thousands of small seedlings on the go, then it's pretty much devastation wherever you look. However, get it in winter, when it's actually expected, and snow can be pretty good for the garden.
I love snow. I love awaking and realising that the light streaming through the curtains is different, that is must have snowed overnight. I love looking out the window and seeing the little bird feet and cat paw prints in the fine white power that's coating every surface. Taking the dog for a walk is a delight, and there's nothing like curling up with a seed catalogue when there's snow on the ground to become inspired.
Benefits for the garden
For gardeners there are other benefits too, aside from the real excuse to enjoy vast quantities of hot tea and warm freshly made bread buns. Firstly, a cold spell sends plants into a real dormant phase. You'll often discover that many plants, including wisteria, lilacs and even roses will produce a really show-stopping cascade of flowers in the spring when winter weather's been particularly harsh. Rather than attempting  some lacklustre growth through the colder parts of the years, plants are sent into real dormancy and shut down. At the first sign of warmer climes they burst into life with vibrancy.
Less pests
Snow on the ground is also great help when it comes to pests. Harsh winters will result in fewer pests having survived, enabling plants to thrive with even more ferocity. It takes a while for those aphid and mollusc armies to build their numbers after a harsh winter, and it allows us gardeners to get a head start on protecting our plants. 2012 was a horrendous year for growing, and vast amounts of rain have sent the slug and snail populations soaring. You might think you've collected and killed all those critters in your garden, but think of all the eggs waiting to hatch. With any luck, frosts and snow will kill some of these off, giving us a slightly better gardening start to 2013.
Invasion of the weeds
But heavy snowfall also offers the chance to take action on those weeds too. Like the gorgeous plants we want to have in our gardens, weeds become stunted by the snowfall and unable to grow. You might not be able to dig out those pesky invaders whilst the ground's frozen, but as thawing comes, it's the ideal time to rid the garden of those frozen weeds. A major weed problem that's currently streaming across the UK is the invasion of Japanese knotweed. This has to be dealt with as soon as it appears because it will soon start to invade your garden, and even your home, if not dealt with. With snow on the ground and a slight lull in the horticulturists season, it's the perfect time to look up TP Knotweed and prepare for the war against invasion.
It's true that many plants have to be protected from frost and snow damage, and you should take adequate care to ensure fragile plants survive. But, snow can be a good thing, and it can push your garden to be even more spectacular in the coming  year.


I've always found that by far the best pest control in any garden is chickens. I keep a small group of 7, 2 silkies, 2 buff nankins and 3 light sussex. They provide me with fresh eggs, an outlet for all my, and many of my neighbours kitchen waste, a constant supply of nutrient rich manure and on hand, organic pest control. If you aim to let chickens out in the garden it is VERY important that you do so correctly, otherwise all that will ensue is damage and destruction to lawns and plants.
I don't have a lawn so I don't have to worry about my hens scratching it into a dusty, barren landscape. By by far the most important thing to do is ensure that your hens, whilst cooped up, receive plenty of green stuff. This means that on racing for freedom when let out, they won't go straight to your prize lupin and strip the leaves, or gobble up your wonderful salads, or trash you latest bedding plant installation. Obviously, common sense is needed. Any young seedlings will need to be protected, or placed in an area where the hens can't get to them. If on their first outing you notice a particular lust for one plant, a plant that you don't want destroyed, then once again make sure it is out of reach.
You can let your hens out for as long or as short as you wish. It is important over the first few times to take note of what happens. In the first instance I would always recommend near constant supervision and curtailing their freedom to an hour at most. This ensures minimum destruction and once your feathered friends are stashed away, you can survey any damage. Over time you'll gain knowledge of your flock and how they work. I can now happily let mine out all day, with the knowledge that damage to my plants will be minimal. The cats have got used to the invasion, and all I have to do after is sweep the gravel path back into place and clear up any rogue droppings.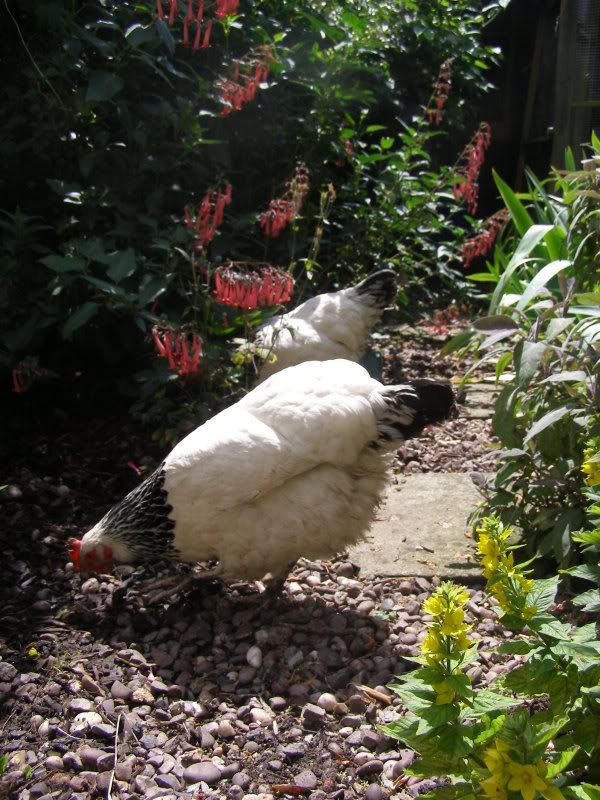 A light sussex inspects a snail like snack
Update: And when I say use common sense, I really mean it! I just went out only to discover that I'd forgotten to move my chive seedlings, well, what's left of them! Touch wood they remerge from their nibbled stems!