With the damaging frosts approaching and a definite chill in the air, many plants are beginning to end their year long show. Tender varieties are being brought into greenhouses, or having cuttings carefully taken to ensure survival, whilst herbaceous borders are looking somewhat stark after the Autumn cut back. But there is no reason why a garden cannot look truly beautiful throughout the long, cold winter months.
Whilst flamboyant, colourful, and altogether camp borders may not be able to be achieved, a splash of vibrant colour within the dead and seemingly barren bleak of winter can possibly be even more beautiful. No buzzing of bee's, no vibrant tree leaves swishing in the wind, winter can be disheartening to many. But what's more stunning that a thick layer of frost with a lilac crocus pushing it's bud through the bleakness? Or, with a backdrop of dark and dismal branches, the vividly alluring stems of  the dogwood. Here's my favourite ten winter gems.
1. Common Dogwood (Cornus sanguinea)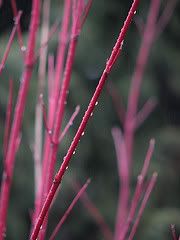 The wonderful vibrant stemmed dogwood's are a garden, and one of my favourite, plants for use in the winter garden. Largely uninteresting throughout most of the year, it is winter where it puts on the magnificant show of colour. Varieties come in reds and golds, through to oranges, and bring a flash of colour to even the bleakest gardens.
2. Hellebore
What should be a garden staple, Hellebores are possibly one of the most wonderful plants on the planet. Like many winter flowering species they remain mostly camouflaged throughout the year, and it is only when other plants die back and the Hellebores put out their delicately pastel flowers that we get a hint of radiance. Beginning to flower anytime after Christmas, through those really cold snaps (though I gave a hybrid of mine to a gardening client and it decided to flower in July?!) flowers range from greens, through blacks to pinks and give a quick glint ground level colour to pull the attention.
3. Snow Drop
A fantastic little bulb for the winter season, and one of the first to actually brave the colder climes, snowdrops are beautiful against any backdrop whether its a snowy landscape or the barren brown that many are used to. Galanthus S.Arnott is a beautiful variety with large flowers, whilst the common Galanthus nivalis starts an early flower in February.
4. Crocus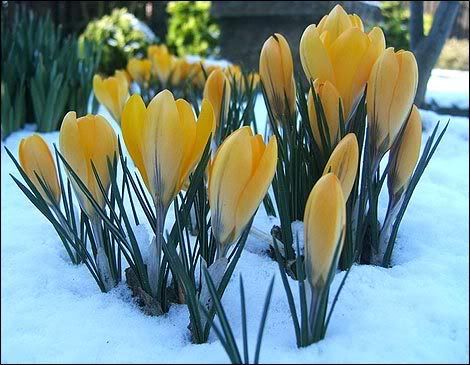 Whilst the snowdrop brings a flash of creamy gleam to the garden, the variety in crocus colours is immense. Golden yellows, creamy whites, vivid purples. Delicate flowers which often only last a day or so, they are worth it. They can bring a smile to any face.
5. Sedum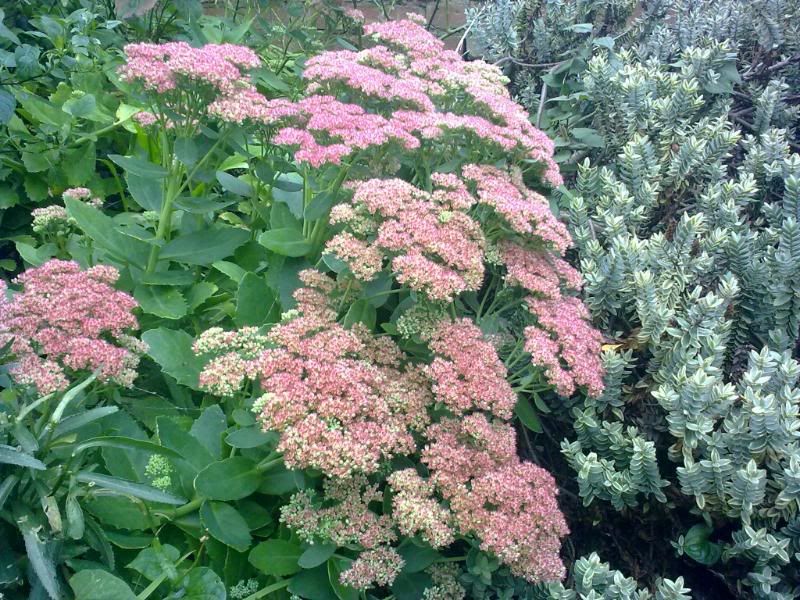 Ok, so Sedum really isn't a winter plant, but hear me out. Flowering towards the end of the summer season with its vivid aggregations of tiny flowers, Sedums are often a staple for gardens which many cut back to the base as soon as they die off. However, I tend to leave about half of the stems in place, allowing for protection of the spring emerging growth and also for some winter wonderland. They look truly amazing when caught by a hard frost or with little mounds of snow on top of each flower, adding a new depth to the garden.
6. Winter Jasmine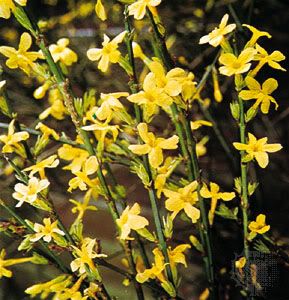 Another mainstay for many gardens, the winter jasmine (Jasminum nudiflorum) often begins flowering as early as November and continues throughout all of winter until March giving a truly well desevered attention grabbing bag of yellow. Drawing the garden together into a splash of sunshine when Narcissus and Forsythia begin to flower in the spring, once established it takes very little maintainance.
7. Forsythia
It must be my favourite yellow of the season. From what seems just an ordinary specimen, blandly green leaves through the growing season, bare ochre stems during cold snaps, Forsythia's always never cease to shock me with the vibrancy and cover of their magnificant blooms in early spring. It's almost as if you forget just how amazing they are so they continuously have to prove it year after year. Cut back after flowering to ensure blooms for the following year. Wonderful specimen.
8. Cyclamen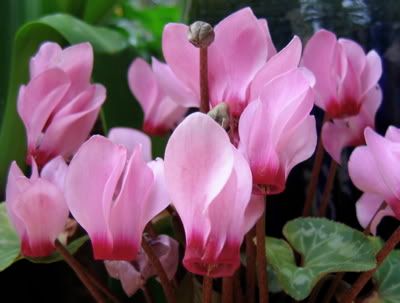 Beautiful and delicately petalled Cyclamen are the perfect little plant for autumn and winter long colour. Shades of pink, red and white can bring colour to borders, woodland shade, pots and baskets throughout the colder seasons. They are immensely hardy, though often attacked by black weevil grubs, and if left in situ are pretty good at multiplying rapidly.
9. Lilyturf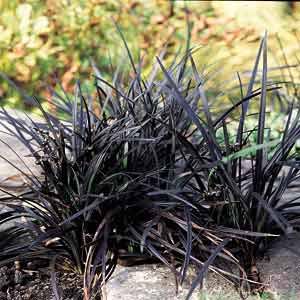 Whilst not flowering throughout the winter season, those looking to cause some drama in their gardens need lilyturf Ophiopogon planiscapus. It's jet black foliage will pounce it out from the crisps of frosts and the depth's of snow. A fantastic plant for combining with bulbs such as snowdrops and crocus', its a good year all rounder.
10. Birch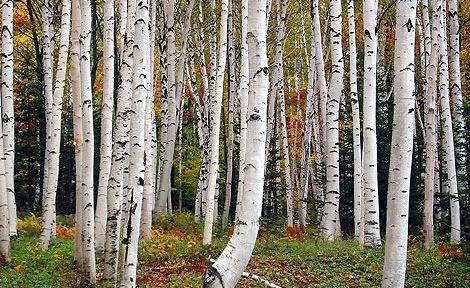 And finally, the birch tree. When all the leaves have dropped. When the warmth of autumnal colours have faded and rotted away. When tree's are bare and defenseless to the elements. The Birch's magnificant, towering columns of striated white will add that little and much needed spark to the soul. Careful choice and maintainance is needed due to their scope to grow into huge monsters, but the benefits on a cold, grey winters day is more than apparent.
The sun is shining down ferociously in London and though there is a little wind both I, and my seedlings, trapped behind panes of glass are enjoying it wonderfully. It really feels like spring is in the air and I have to hold myself back from just going outside and seeding or planting things that really can't stand a frost.
I have lost quite a few plants this winter. They couldn't cope with the snow we had and I'm afraid most of my Osteospermum varieties bit the dust along with my succulents. 2 out of 3 Dogwoods didn't survive the dry spell last year and most of the crocus bulbs seem to have disappeared! However, the hen nibbled Alium's from last year seem to have surprisingly sprouted (I thought they'd have died not having enough energy to last another year underground), my wonderful new varieties of Beared Iris from The Chelsea Flower Show last year seem to be coming along nicely and the broad beans which have finally been seeded at the allotment are peeping through after the somewhat shivelled beans which entered the ground. The Helebore is looking particularly lovely and I must make sure I remember to gather the seeds and pot of the littlun's to pass them on to clients and friends alike
The fantastic weather has meant that I've been able to get out into my own garden which was becoming a slight embarrasment. When you're day job is a gardener and you own looks like an unkempt scrub it doesn't send out the correct signals!! I had a wonderful dead conifer stump that I had originally planned to grow a swath of sweet pea's up. However after years of never getting around to it and then base breaking I decided to incorporate it into a new area to show case the Bearded Iris's. I hope that as they grow and a put some lower growing plants in and around the piece it will look as if the log was simply felled and the Iris's grew up through it, I can't wait until they flower so I get a proper look!
Other than the gardening I've been planning a rather ambitious new gardening web series. My work with ITV and recent garden makeovers had hopefully given me the know how so I'm currently writing the scripts for the first couple of episodes. The angle is Suburban Gardening for the future, looking at recycling, ways to save money, ways to become greener, all whilst enjoying our gardens and really bringing them to life. The first episode will be looking at keeping hens, the way they can save you money and add precious advantages to the gardener. We'll see how it works, it may be a complete failure, but it's something I've wanted to do for a while now so fingers crossed.
Also if you're watching, my first Garden Makeover aires on This Morning, Friday 13th…..you may even catch a glimpse of me onscreen!