I've always found that by far the best pest control in any garden is chickens. I keep a small group of 7, 2 silkies, 2 buff nankins and 3 light sussex. They provide me with fresh eggs, an outlet for all my, and many of my neighbours kitchen waste, a constant supply of nutrient rich manure and on hand, organic pest control. If you aim to let chickens out in the garden it is VERY important that you do so correctly, otherwise all that will ensue is damage and destruction to lawns and plants.
I don't have a lawn so I don't have to worry about my hens scratching it into a dusty, barren landscape. By by far the most important thing to do is ensure that your hens, whilst cooped up, receive plenty of green stuff. This means that on racing for freedom when let out, they won't go straight to your prize lupin and strip the leaves, or gobble up your wonderful salads, or trash you latest bedding plant installation. Obviously, common sense is needed. Any young seedlings will need to be protected, or placed in an area where the hens can't get to them. If on their first outing you notice a particular lust for one plant, a plant that you don't want destroyed, then once again make sure it is out of reach.
You can let your hens out for as long or as short as you wish. It is important over the first few times to take note of what happens. In the first instance I would always recommend near constant supervision and curtailing their freedom to an hour at most. This ensures minimum destruction and once your feathered friends are stashed away, you can survey any damage. Over time you'll gain knowledge of your flock and how they work. I can now happily let mine out all day, with the knowledge that damage to my plants will be minimal. The cats have got used to the invasion, and all I have to do after is sweep the gravel path back into place and clear up any rogue droppings.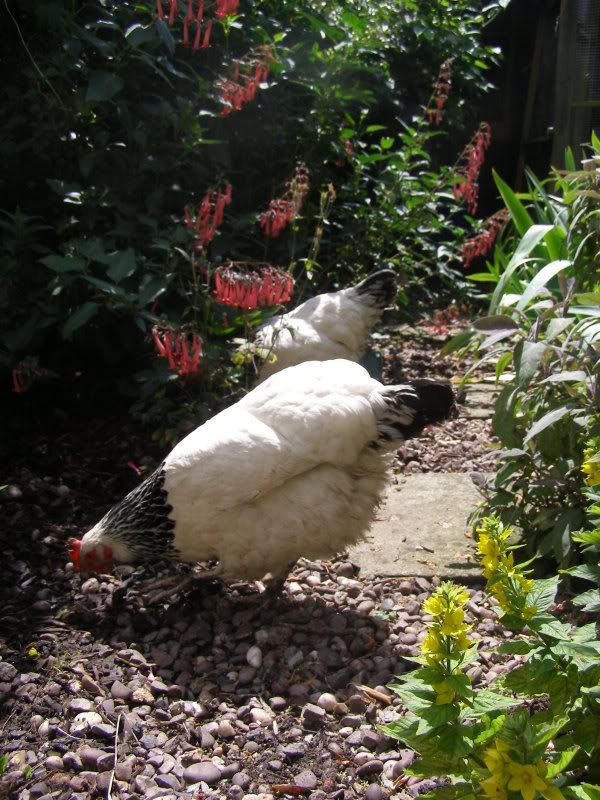 A light sussex inspects a snail like snack
Update: And when I say use common sense, I really mean it! I just went out only to discover that I'd forgotten to move my chive seedlings, well, what's left of them! Touch wood they remerge from their nibbled stems!