Whilst I may be a fan of herbaceous gardens, I know that not everyone is. There's clearly many reasons for this, one being that they require quite a lot of work. In addition, as the winter arrives, most plants recede underground, leaving a once lush flowerbed seemingly devoid of life. One of the best ways to counter this is to opt for a compromise and use structural evergreens within a patch so that when the majority of the plants die back, there's still some form and colour. There are also some great plants that shouldn't be cut back until spring, allowing their dead foliage to be caught by winter's grip and encrusted with white.
We're not quite at that frosty time of year, but it's not that far away. Autumn makes an ideal time to place shrubs, move plants and put in vital bulbs for spring. Taking the opportunity of a sunny day and slowing growth is a good idea and allows you to prepare your garden to see you through the winter with joy, instead of looking out upon a barren and brown landscape. So, what can you do to lift your garden for the colder months of the year?
Control your cut back
I don't know about you, but the urge to prune plants back at this time of year tries to override everything else. I can't help but want to tidy and neaten borders so they look a little more organised after the cascade of summer. But if you have a herbaceous border in the purest sense, this can lead to a rather dull, flat and lifeless looking garden.
One idea can be to leave some plants in place; whether they're dead or not. There's something beautiful about dead and stark foliage being covered in early morning frosts. Ideal plants to leave in place are Japanese anemones, Golden Rod, Phygelius (right) and sedums. If you have hydrangeas in your garden, leaving the flowerheads on until spring will protect emerging buds in addition to giving another structural element to winter.
It's hard not to go crazy and have the compost heap towering to over six feet tall at this time of year. But, if you leave a few structural plants in place, you'll be rewarded with a wintery delight on extra cold mornings.
Bring in some evergreens
One of my favourite gardens is one of my client's, who's persisted in using a majority of evergreen plants in their garden. This means that regardless of the time of year, there's ALWAYS something green outdoors. Autumn, as I've mentioned, is an ideal time for planting new specimens. It's also a time when many nursery's are getting rid of summer stock. If you want to save a little money and provide some year-round structure, bringing in evergreens is a good idea. Whether they're large shrubs such as box, bay or holly, or small groundcover plants, including hellebores or ajuga, planting now ensures you can avoid the brown barren of a wintery herbaceous bed. If you're at a loss of what to do, companies such as Eden Landscapes and other nurseries, can provide great insight and support in choosing the correct garden additions.
Plant bulbs & pansies
Okay, so bulbs are spring flowering species, but there are some varieties that bloom in late winter. Snowdrops and early flowering crocus can be out in late January and February, bringing welcome colour to barren retreats. In addition, the specialised winter flowering pansies may look a little drab and dead when you first wake, but with a splash of sunshine, they'll quickly perk up even on the coldest of days. Planting on mass creates the most impact, and if you're not sure where you'll need colour, plant the pansies in pots and shift them around as needed.


The snow has withdrawn and though breath continues to swirl mysteriously in the air, and little pink fingers poke through fingerless gloves, the hum of spring is around. A pair of Robins ducked and dived when I was gardening yesterday, snapping a worm here, a small piece of bread there. They seemed unfazed by the three cats sitting on the aviary watching their every move, almost taunting the felines with their almost close enough flashes of red breast. Narcissus and Tulips continue to push green shoots skyward, and even the climbing Hydrangea has its first bulbous shoots appearing.
Finally getting my act together I've started the much needed renovation on my back garden, so I hired a skip bag for the day to remove some old garden trellis and other bits from the garden as I looked to revamp things. This also included me moving both my compost bin and mini greenhouses too better positions. As a gardener, and plant lover, my garden is far from looking chic. Rather, it has a bizarre and elcectic mix of plants as I normally cannot contain myself and limit purchases to colour, type or form. But with priorities changing, and needing some summer space to put my feet up and work in the sun, as well as trying to make my own bit of green slightly more organised, the sun trap at the back door is to become a large enough gravelled area for a small table and chairs, and whilst I await some reclaimed bricks and mortar, I remembered that it is indeed time to sow!
You may think it is far too early to sow, but for those keen allotmenteer's who wish to get ahead this year, planting both Broad Beans and Leeks can both occur now as long as they are positioned in such a place that they recieve enough warmth to germinate. An inside window sill is fine, and it'll ensure that you get a nice early crop, suceeded by later ones that are sown outside next month. Plus getting these early seeds out of the way will mean that there is plenty of window space available later, when seeds of all varieties starting taking over the house.
Well winter is certainly upon us, and with soft billowing wisps of snow bringing some Christmas cheer and delaying any gardening work I had planned, I'm taking the opportunity for a quick update. Any gardener knows, even when the cold draws in and hours of light become severely stunted, there is always something to be getting on with in the garden. Leaves can continue to be swept, kept and turned into leaf mulch. Landscaping changes can be made, whether its simply putting down a new path or overhauling the garden completely. Hibernating tree's can be pruned, especially those fruit tree's which have becoming gangly over the years and general winter maintanance such as protecting plants, tiying back tree's and moving shrubs can continue.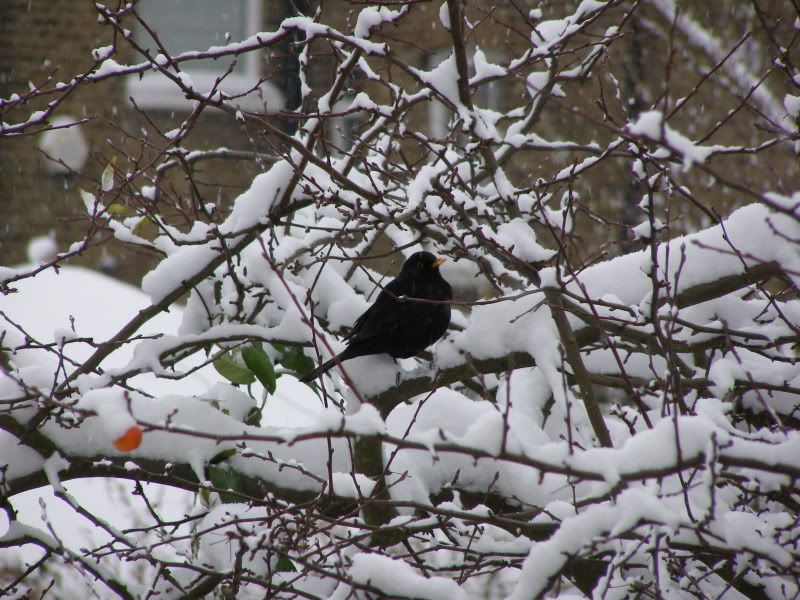 A proud Black Bird gleams in his white wonderland
At the allotment, whilst the frost is definatley nipping at Jack's toes, the broad beans planted last month have pushed their heads through the earth, clambouring for some wintery sun. Little clean green gems, fresh and new. Overwintering onions sit patiently, peeping upwards, waiting for sporadic warmth to start bulging their bulbs. Meanwhile, though Autumn has flown by, any last bulbs can be quickly planted before the new year is upon us, drinks, banners and party poppers flying. Once January comes the time for ensuring spring bulb flowers is over, and though bulbs can theoretically still be planted, they won't flower until the following year.
Meanwhile, as my plans to rip out my current green space and create something new and exciting seem to have waned a little, the TV garden calender is gearing up for another round of makeovers. For those in desperate need of aid, help is at hand with This Morning's new gardening series First Impressions. With Sven Wombwell and Diarmuid Gavin once again taking the helm, the battle is on to transform front gardens into glitzy, fabulous, curb appealing destinations. If you need help then visit This Morning to apply.
And finally, as the scurrying stress starts with present buying, decorating and attempting to create the ideal winter wonderland,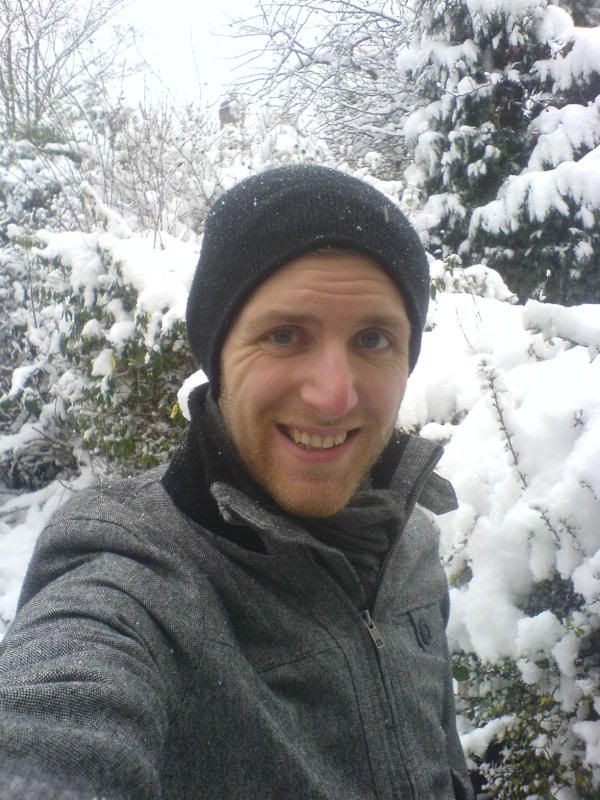 Merry Christmas!