Sowing Up
I can't believe it's May already! I've spent the last couple of days desperately trying to get my seeds going, seeds which I should have put in several weeks ago. Unforunately on my tiny little bit of suburban sprawl I don't have room for a full furnished greenhouse, so it's down to two mini greenhouses to accomplish the task. Actually, they are rather great and do the job just as well. But I do crave a huge, wooden greenhouse to potter about in, plus an Orangery! I want one of those so badly! Here's hoping.
So I finally got my first seeds in, Cornflowers, Marigolds, Lupins, Echinacea, Mesembrianthemum, Cosmos, Aquiliga, and I'm sure there's some others I've forgotten. I know it's a little later but I thought what the hell, if I don't get them in now I never will. I've been meaning to propogate on a broader scale for a couple of years now, just never got round to it. With so many gardening clients, and the fortune they spend buying new plants every year why not just cut out the middle man?! Buy straight from me instead….well that's the plan anyway. Oh, wouldn't it be great to have a small, old fashioned nursery where the plants are home grown, where the customer relies on quality and information instead of quantity and cheap stock that most modern places have these days. I'd love to sell veggies, have a little pets corner with a pig and chickens, and sell an assortment of bedding plants, shrubs, perrenials. Bliss.
Now….everyone use toilet paper but do you keep the toilet rolls or throw them away?! Don't bin them, keep them!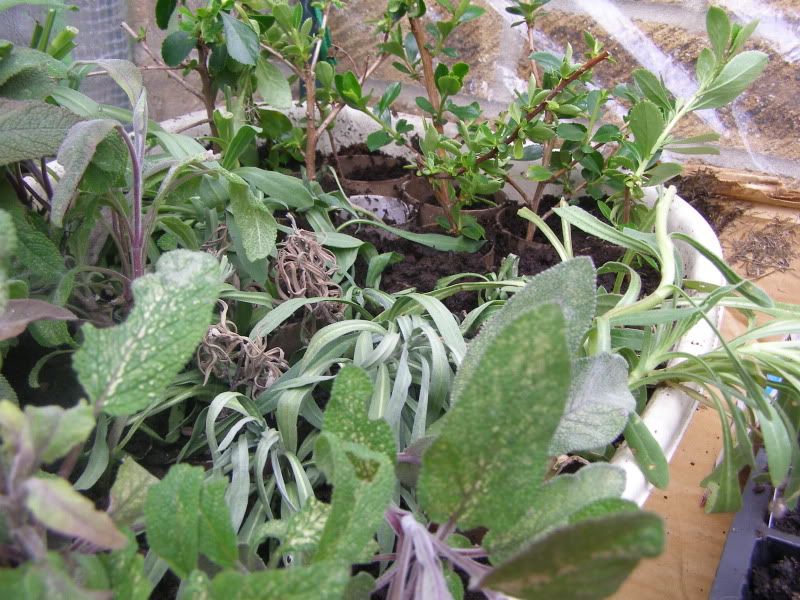 You can't see it very well, but toilet rolls are excellent for growing up cuttings. Simply cram a washing up bowl or similar container with as many as you can, and fill with compost. Into each roll you can then pop your cutting and wait for growth. This technique is great because as soon as certain plants are ready to pot on you can simply remove the tube without disturbing the other plants, that may be yet to take. You can then fill the hole with a new tube and start growing on a new cutting. Idea. It's also great for keeping everything moist and in prime, rooting condition!