With the year scurrying by at break neck speed, life at the allotment also hurtles on. Many crops are already over, others are burgeoning, but most importantly, many are ready to pick! Weeds are sprouting every which way, but Mary's unique talent at aquiring new recruits has kept most at bay and with the slight reclassification of certain plants there seems less to do. This seems to be a fantastic way of endearing even the most weed ridden of patches, for now comfrey is organic fertiliser, fat hen is actually food for my feathered hens, and spindling tendrils of bindweed are natures natural blooms! It's all in the mind, a change in social grooming in what constitutes a weed, it works wonders!
With the sun powering through streams of greying clouds, we dressed for the occasion, our best summery attire, grabbed a hand woven trug and set off to harvest. The salads are a constant bite of deep, flavoursome aroma's. The beetroot are erupting through the earth, ready to be taken and pickled, grated, "borsh'd". The last of the summer fruits were clinging to bare stems, before of course they disappeared into our mouths, picked by nimble fingers. Coriander leaves bolt skywards, constantly clipped to hold back flowering, and sweet peas cast pastel sprinklings across a green uptopia.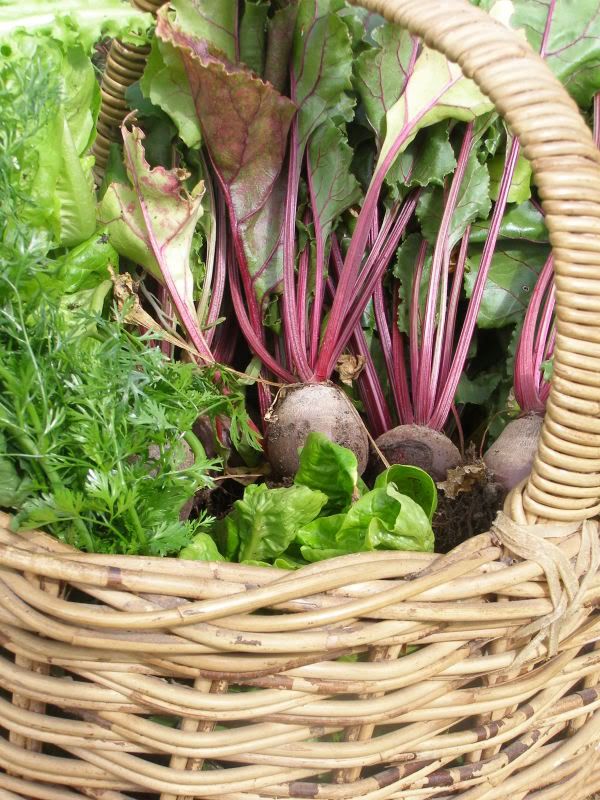 The basket is quickly filled
Elsewhere the sweetcorn is surprisingly shooting up, courgettes and butternut squash are putting our their huge sun coloured flowers to the bee's, and potatoes continue to engorge below the surface. The over wintering onions were a wash out, but newly planted sets are finally beginning to plump and round off, whilst tiny leek stems gradually begin to thicken their way towards beautiful stews and soups.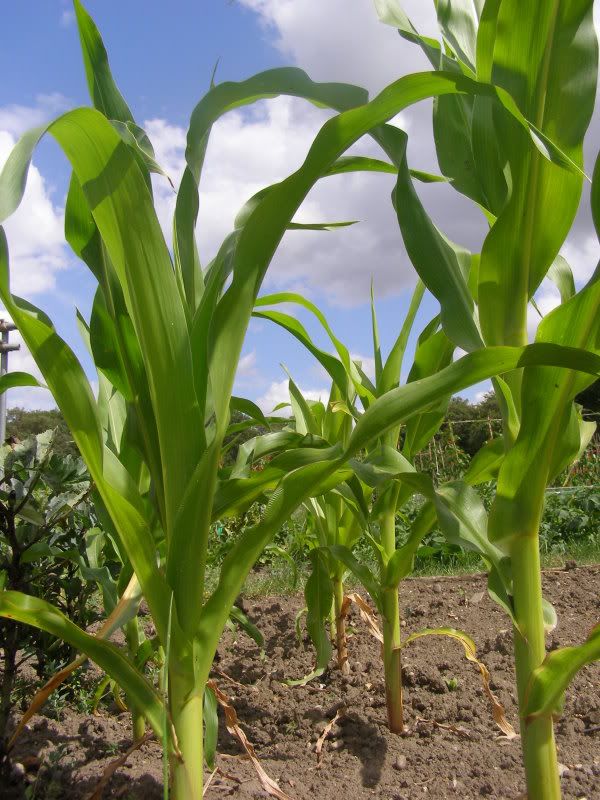 Gardening in the city really is an inspiring endeavour. My hippy heart wants to retire to the country, build a wood cabin and have peace, love and quiet frivolity (surrounded by organic lush gardens of course). However, it seems the best of the both worlds can truly be had if worked for, and whilst London is on my doorstep, its pulsing, raving beats filling the streets, a quiet green oasis is lurking in the shadows, luring us greenie's in. It's quite incredible to see everything growing so quickly and with the best reward at the end, fresh, organic food for the table, what could be better….well our plot rocketing up the allotment league table probably adds the icing on the cake. Well done Mary.
Marigolds, Sweet Peas and Dahlia's add vibrant splashes of colour
To see the afternoon's photo's click here
The allotment is looking rather fantastic at the moment. Beds are dug, lawns are mowed, and veggies are bursting with growth. I cannot take much credit for this work, it's totally down to Mary and a number of new recruits. It quickly becomes the norm, that when relatives or friends come to stay, they're soon dragged off to the allotment and made to work for their keep. Fair's fair I suppose. The latest is Leone, a rather wonderful workerbee who has the energy of ten people. Taking the plunge, perhaps after spending far too much time with me, last Friday saw a dramatic change in her life as she quit her job in the city to follow her dreams. I'm no hippy, but I do feel that we all ought to live in self sufficient communes rather behind desks of monotonous grey. Wait, that does actually sound quite hippyish! Perhaps I'm a modern hippy, as although I'd love to live on a little self sufficient farm somewhere, I need my internet and living TV!
Leone soon started working over the beetroot and pea bed, helping the sweet peas to scramble forth as they begin to flower and pulling out the bindweed that continues to peep through the soil and take hold wherever and whenever it can!
The latest recruit gets in on the action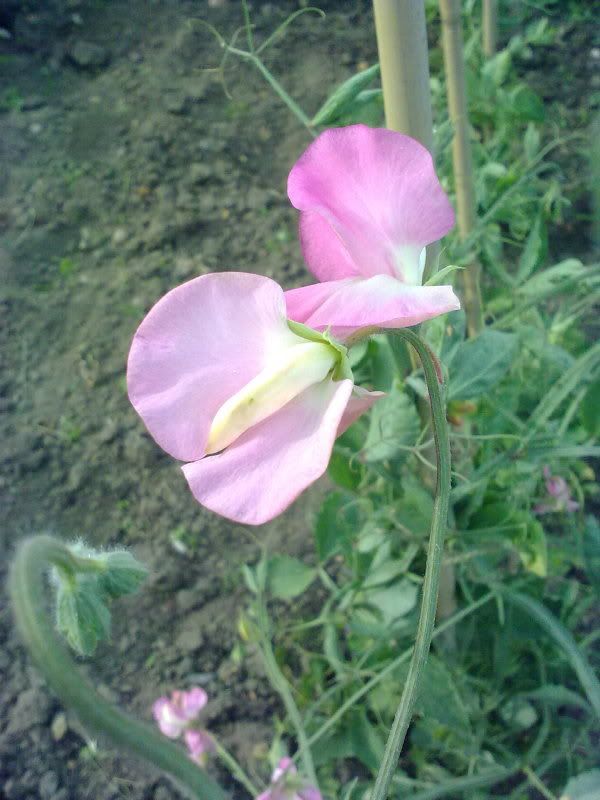 Sweet peas start to flower
Elswhere our makeshift salad and pea nets seem to have done a world of good. I can't believe the difference and the hardiness of the crops. They've bounced back very well and we harvested some of our first salads leaves last night. Wonderful. The Coriander is also shooting up, a little too far, so too stop its bolting I nipped out the tops and took off any leaves more than a couple of inches high. This should ensure continuous growth, rather than the plants going straight to seed.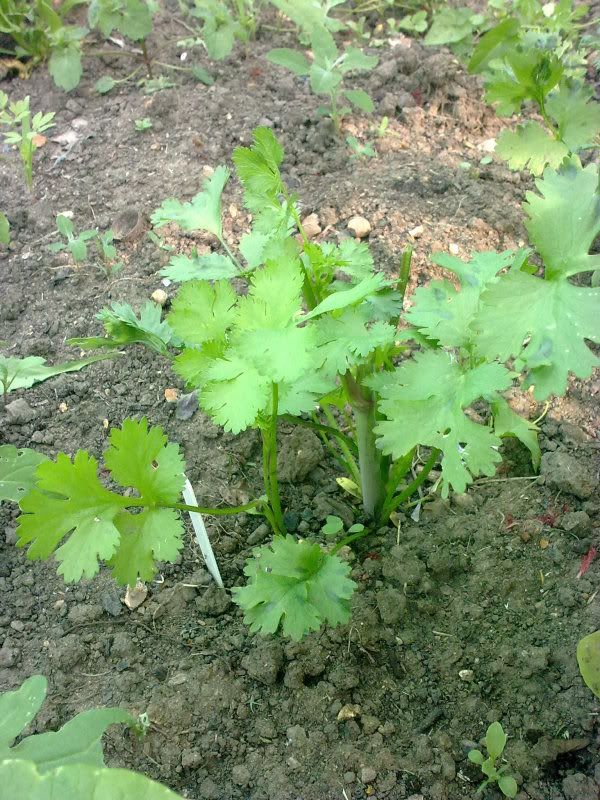 Take the tops out of Coriander to stop it bolting.
With the sun continuing to shine and looking as if we will indeed have a summer, a watering frenzy is sure to start. But we are having a wonderful crop at the allotment this year.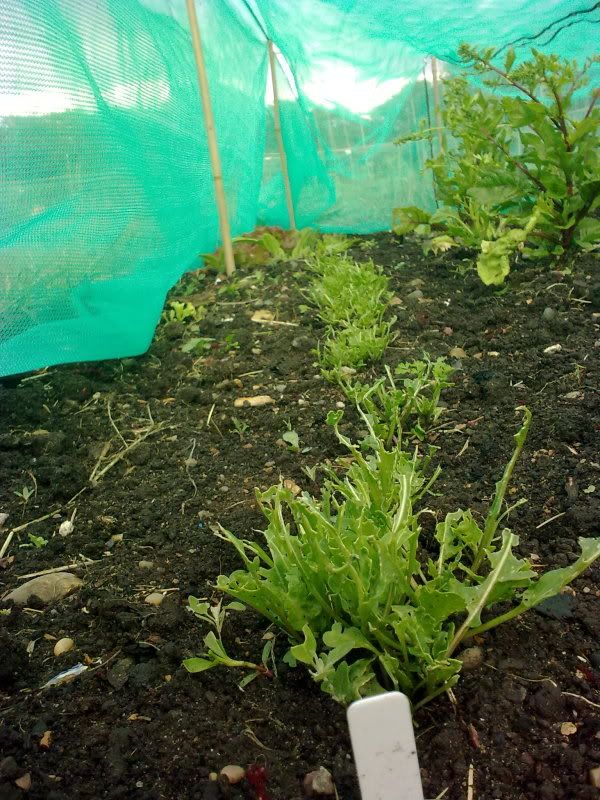 Pigeon attacked salads
Recovered Crops
I have to admit, work on the allotment has been rather lacklustre of late. I find motivation to actually leave the house and head over to our little farm rather hard to come by, and by the time I've finished work, worked out, or generally caught up on other chores, the last thing I want to do is go out again. Added to the fact that marathon training claimed most of my life for three months, the beginning of this year has flown past me.
It was with relief that this recent bank holiday brought good weather, happy attitudes and an easing of post marathon aches in my limbs. Heading to the allotment, seeds, rotivator and man – yes – an actual man, in tow I can't believe how much we got done. Its amusing to see how much difference can be made by having someone on board who really knows how to do large and intuitive projects. Whilst I prefer to titivate borders, Mary has a keen love for soil quality and thus some of the larger projects always get left and forgotten. But Tony! He managed to put up the netting for our gloriously fruiting shrubs, construct a new compost bin, seemingly only seconds after we'd mentioned we needed on, and even created a engineering extravaganza allowing the dog to wander freely over our allotment but not anyone elses!
We seem to finally have things under control. The pototoes – Charlottes, Foremost, Kestrel and Picasso are all in with the Foremost already shoving their green tips through the crusty surface. Sweet peas and runner beans are spindling their way up poles, lettuce and green seeds are in, peas are poking up their heads, and soon, I hope, the butternut squash will join the thronging masses. But it is summer pudding alley that it looking spectacular. Well, actually its rather weedy….but the fruit! A few rogue raspberries and strawberries made it through last year, but we are looking to have a bountiful crop this year. Especially now the cage netting is up. I can't wait for homemade goosberry fool!
Lets hope this change in motive direction keeps up its pace!
Can't wait for goosberry fool!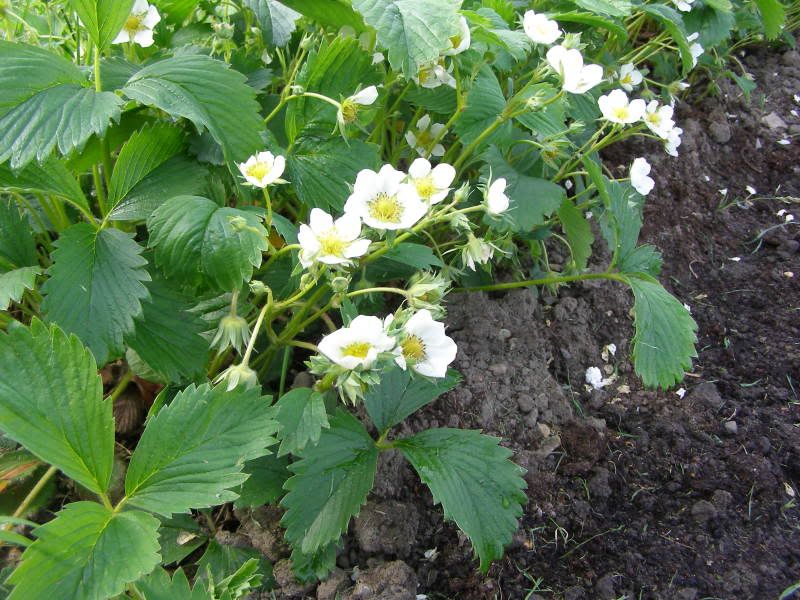 The strawberry plants are looking good too.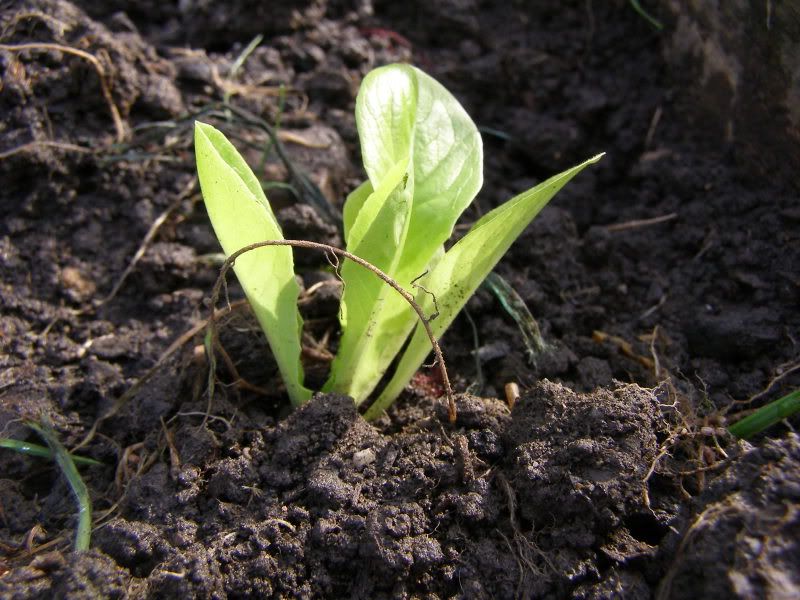 The first of the salad crops are starting to appear.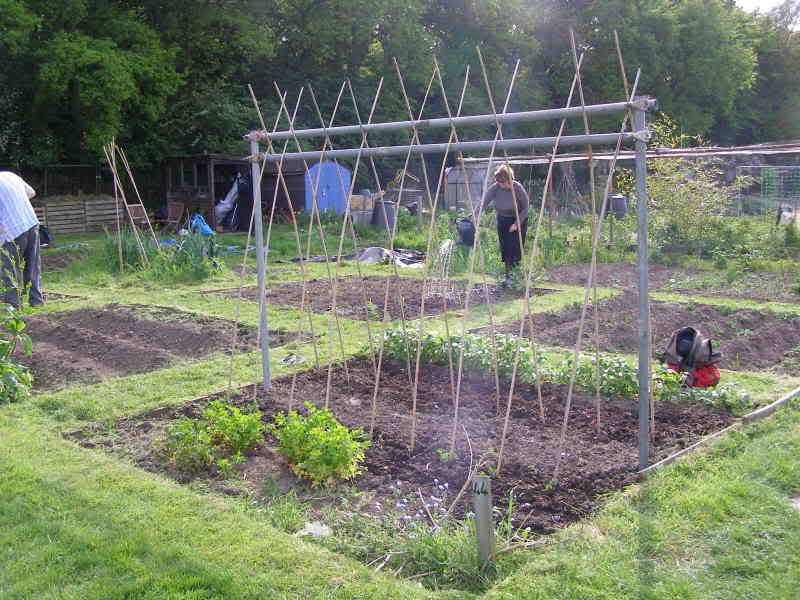 The allotment is finally starting to look a little tidier!